They dart to and fro,
Tiny flashes of brilliant color
Are now sparkling jewels
Watching me warily,
And I can hear them chattering,
Trying to decide amongst themselves
If I mean them any harm.

I lean forward and whisper
"I would never hurt you,"
Hoping they understand,
But trust does not come easily,
And they disappear.

Emptiness overtakes me for a moment
As I stare at the deserted feeders
Until one brave little soul flits closer and closer.
Its dance mesmerizes me
And I know this time I can't move
Or speak
But all I can do is wait
For absolution.


© by Nancy Machlis Rechtman.
Used with the author's permission.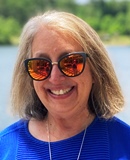 Nancy Machlis Rechtman is a poet, freelance writer, and former newspaper copy editor. Her work has been published in a variety of journals. Nancy has lived on both coasts, but currently makes her home in South Carolina, where she enjoys reading, gardening, cooking, creating art, and playing the guitar. Learn more about her at https://nancywriteon.wordpress.com.
Anastasia:
They are clever birds! Once they know they can trust you, it's wonderful how much they will let you watch them without causing them distress.
Posted 09/04/2022 05:36 PM
Lori Levy:
Great last stanza, and I love how you bring trust into this poem about hummingbirds.
Posted 09/03/2022 04:33 PM
bruceniedt:
We have a hummingbird feeder too, and I've written a few poems about them. They are fascinating, smart little birds. You captured the experience of trying to gain their trust perfectly. Nice imagery too.
Posted 09/03/2022 04:28 PM
Kay N. Sanders:
You've captured the jewels of hummingbirds and the jewels of being able to watch, listen, and wait, to be mesmerized.
Posted 09/03/2022 09:30 AM
Sharon Waller Knutson:
I love this poem as much as I love hummingbirds because it captures the tiny little helicopters which are fun to watch. Lovely unique description: Tiny flashes of brilliant color Are now sparkling jewels
Posted 09/03/2022 08:45 AM