Saying goodbye to the last camp of summer,
we walk alone under golden trees now turned
from their green work clothes, the ground
damp and rough with acorns.
 
The sand beach is blank, no shouts, no running feet,
no dogs. No water splashing. Only the wind ripples
the lake's blue face. A pair of loons drift to and fro.
 
The fire ring is cold. We are the last campers.
Tomorrow they lock the gate. We have one bundle
of wood left, unburned, and cannot take it with us.
 
We leave it stacked on the grill, a greeting
for the first-comers of next season, a small gift,
a welcome, a silent benediction of wood.

 
This poem first appeared in the 2020 Wisconsin Fellowship of Poets Calendar.
Used here with permission.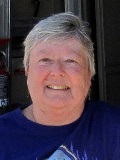 Yvette Viets Flaten was born in Denver, Colorado, and grew up in an Air Force family, living in Nevada, North Dakota, and Washington State as well as France, England, and Spain.  She holds a Bachelor of Arts in Spanish and a Master of Arts in History, and her award-winning poetry has appeared in numerous journals. Yvette now lives in Eau Claire, Wisconsin, near the mighty Chippewa River.
Anastasia:
Packing away summer is partly physical things, and partly emotional things.
Posted 09/05/2022 05:14 PM
paradea:
I'm right there, feeling content and in touch with nature and humanity!! Love this poem!!
Posted 09/05/2022 09:12 AM
Lori Levy:
I agree with the comments below. Beautiful poem.
Posted 09/04/2022 04:14 PM
pwax:
All those long o sounds reinforce the feeling of woe at having to leave. Good poem, Yvette. Phyllis
Posted 09/04/2022 01:12 PM
CamilleBalla:
Beautiful! It shows gratitude, acceptance, peace, blessing, and connection in a most poetic way. Thank you, Yvette.
Posted 09/04/2022 01:05 PM
RonPoems:
This poem celebrates the happiness and generosity of humankind, when we are at war or starving.
Posted 09/04/2022 10:24 AM
Wilda Morris:
Wonderful! I especially liked "turned from their green work clothes" and "a silent benediction of wood." A lovely poem!
Posted 09/04/2022 09:39 AM
Michael:
"Permission to depart," after one's heart has been satisfied. Well done, Yvette.
Posted 09/04/2022 09:05 AM
Larry Schug:
The same line struck me as it did Joan. having a campsite to oneself is a kind of surrealistic image. I can almost hear the echoes expressed in this poem.
Posted 09/04/2022 08:18 AM
Joan Luther:
golden trees now turned from their green work clothes a lovely feeling of relaxation
Posted 09/04/2022 07:22 AM