Exploding yellow lilies float in my
grandparents' pond. Fat goldfish
cruise the surface, bumping aquatic
plants with blunt noses as damsel
flies alight on green pads, flaunting
emerald gossamer. Pungent lye and
animal fat cooked and poured into
wooden molds surrounds the pond
and dries in the sun. Dry cakes get
chopped into chunks as hard and
rough as bricks that look and smell
so bad they can scare dirt away.
None of us kids dare swear lest
we get a mouthful.


This poem first appeared in Mudfish Journal.
Used here with permission.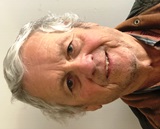 Ronald Lauderbach says he writes poetry to celebrate life and because he likes to play with language. A retired high school English and journalism teacher (he also coached Pony League, for 12- and 13-year-olds), he tries to follow the advice he gave his students: "If you write poetry that moves you, it will move others." Ron lives in San Diego, California.
Jancan:
Vividly descriptive contrast between the appealing and the unappealing. :-)
Posted 09/17/2022 08:20 AM
Lori Levy:
Very visual. I can see the pond and soap clearly.
Posted 09/16/2022 01:14 PM
Michael:
This is quite unique and interesting as two worlds get "conflated" in this lyric rich poem. Nicely done Ronald . . . can't say as I have ever read anything quite like this before. Congratulations.
Posted 09/16/2022 10:49 AM
Leslie Hodge:
Wonderful images and sense of time!
Posted 09/16/2022 09:54 AM
Cathy's Sister:
Love scare dirt away! I have never used lye soap but your poem does it justice!
Posted 09/16/2022 09:35 AM
suzanne:
Agreed "flaunting emerald gossamer" is beautiful.
Posted 09/16/2022 07:48 AM
Larry Schug:
I do like this very much. My first instinct would be to have written this in two stanzas or even as two poems, though it works magnificently as one. I'd be curious to know your thoughts on this, Ron. "flaunting emerald gossamer" is beautiful and using gossamer as a noun is innovative.
Posted 09/16/2022 07:43 AM