A juvenile Cooper's Hawk perches
on our lawn chair.
He swivels his head toward a piercing sound
and silently flaps into our magnolia.
The squirrel leaves bits of fig on the ground
and remnants of daisies on our outside table.
A Black Phoebe flies in, swoops between our pond,
table, and pear tree, snatching noseeums on the fly.
Raccoons at night, unable to catch a pond fish,
chew on lily pads and flowers.
A red dragonfly bounces her abdomen
on the pond water, laying her minuscule eggs.
Hawk piercing calls, squirrel tracks, raccoon tracks,
phoebe and dragonfly sightings.
How little I know of the ways of the wild ones.


© by Erle Kelly.
Used with the authorís permission.
†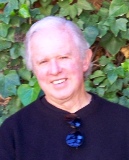 Erle Kelly, whose poetry has been published in a variety of print and online venues, lives in Long Beach, California. Retired from a career in marketing management, Erle tutors at a local elementary school and is active in a local poetry group. He and his wife, Kristine, enjoy traveling, visiting their grandchildren and great grandchildren, and tending their community vegetable garden.
†
BAMars:
Written with your usual sensitivity toward the natural world and our animal neighbors. Nice work, Erle.
Posted 09/18/2022 10:13 PM
Michael:
Really like the careful observational skills that went into this poem. Nicely done, Erle.
Posted 09/18/2022 06:01 PM
joecot:
How little we know, but how well you express it.
Posted 09/18/2022 12:16 PM
Lori Levy:
Great details. So much activity of the wild ones.
Posted 09/18/2022 12:14 PM
peninsulapoet:
Beautiful, closely observed poem.
Posted 09/18/2022 11:01 AM
mail@schoolbusmart.com:
Oh, the ways of the wild ones in the burbs!
Posted 09/18/2022 10:12 AM
cork:
"Noseeums" must have a history that I plan to explore.
Posted 09/18/2022 09:50 AM
Larry Schug:
This poem could and should provide inspiration to the mass of suburbanites and city dwellers, for that matter showing ourselves that we can all do just a little to help our planet survive and even flourish and, in the process, provide ourselves with great joy.
Posted 09/18/2022 08:03 AM