Itís the end of the season
And the peaches, once ripe and succulent,
Are now mealy and sprout molds
By the time I get them home from market.
†
Itís always the end of a season somewhere
And sometime, all time a progression of endings,
Passings, from one amazement of Life to another,
With roving moments of freshness
†
Like the sunlight bright on the back fence
This one morning.


© by Daniel Budd.
Used here with the authorís permission.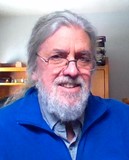 †
Daniel Budd†is a retired Unitarian minister in Cleveland Heights, Ohio. He†has been reading and writing poetry since finding W.H. Auden's "Like Love" torn out of a paperback and lying on the floor of his high school cafeteria. Daniel is very appreciative of the time he has now to read and write more.
†
†
Wilda Morris:
Yes, it IS always the end of a season somewhere - probably always the end of a season of some kind right here. Thanks for the insights in this poem.
Posted 09/23/2022 09:58 AM
Anastasia:
"roving moments of freshness" - this is such a wonderful phrase!
Posted 09/20/2022 10:23 PM
Lori Levy:
So much expressed in that line, "Passings, from one amazement of Life to another."
Posted 09/20/2022 07:03 PM
CamilleBalla:
Ditto to everyones comments, so what can I say?! Thank you, Daniel, for showing us Awareness that moves.
Posted 09/20/2022 01:27 PM
joecot:
amazements of Life...
Posted 09/20/2022 10:58 AM
peninsulapoet:
Beautiful in it's plain-spoken power
Posted 09/20/2022 10:50 AM
Joan Luther:
Roving moments of freshness.the feeling of fleetingness. Enjoy the whats when we can.
Posted 09/20/2022 10:16 AM
Jancan:
Concise, powerful message about ever-changing life
Posted 09/20/2022 09:44 AM
cork:
Life is a series of beginnings and endings.
Posted 09/20/2022 09:19 AM
Larry Schug:
I love poems such as a"A Season somewhere" that lead to increase the depth of my thoughts see life in a little different light.
Posted 09/20/2022 07:52 AM
KevinArnold:
Nuanced, muted, enthusiasm.
Posted 09/20/2022 07:35 AM