Today I sighted a yellow-bellied
black-masked teardrop of a bird
flitting from pine tree to flower pot
in my secret city garden,
 
felt my heart fly with the creature's
golden exuberance, in sheer surprise
of seeing, for the first time,
such an ingenious display of life.
 
I thought this is what joy is:
simple communion
with another member of our
beleaguered earth, still
 
capable of wowing
the unexpectant eye
with its creative majesty in
one small feathery package.


© by Arlene Gay Levine.
Used with the author's permission.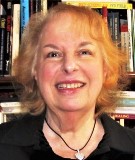 Arlene Gay Levine is an award-winning poet, author, and educator who lives with her husband in New York City. Her prose and poetry have been published in The New York Times, more than 30 anthologies, and in numerous literary journals. Arlene is the author of 39 Ways to Open Your Heart: An Illuminated Meditation (Conari Press,) and Movie Life (Finishing Line Press). Learn more about her at http://www.arlenegaylevine.com.
jamvan:
beautifully simple and inspired. A lovely observation :)
Posted 09/29/2022 03:29 AM
Wilda Morris:
A beautiful poem! A "teardrop of a bird . . . with its creative majesty in one small feathery package."
Posted 09/23/2022 09:56 AM
Jo:
the communion with other creatures of our earth is truly joyI love, one small feathery package. Thanks again Arlene for your thoughtful poetry.
Posted 09/22/2022 12:24 AM
Arlene Gay Levine:
My gratitude and thanks, YDP friends!
Posted 09/21/2022 05:00 PM
Lori Levy:
Love the golden beauty in this poem.
Posted 09/21/2022 03:06 PM
Sharon Waller Knutson:
It's always a pleasure to read Arlene's uplifting picturesque poems. I loved the images: "yellow-bellied black-masked teardrop" and "small feathered package" to describe what sounds like an American Gold Finch that visits us from time to time.
Posted 09/21/2022 09:45 AM
bobbi43sml@aol.com:
Creative majestry - love your writing - thank you Arlene
Posted 09/21/2022 09:05 AM
plgoodman:
Yes! Joy. Thanks Arlene
Posted 09/21/2022 08:44 AM
Larry Schug:
"simple communion" Most profound.
Posted 09/21/2022 08:39 AM
tiddles:
Ah, "golden exuberance" is what we all need to experience. Thank you for uplifting me this morning. MZWindau
Posted 09/21/2022 08:02 AM
Michael:
Love the way you bring together correspondences between nature and human experiences, Arlene. Thank you.
Posted 09/21/2022 07:46 AM
mail@schoolbusmart.com:
Great joy can start with the tiniest of observations. Thank you for sharing this. Randy Mazie
Posted 09/21/2022 06:31 AM