My feet are too big.
My hairís a bad wig
and my nose is pushed off to one side.
My ears are like wings.
My mouth says such things
that embarrass me deep down inside.

But never-the-less,
in spite of the mess
that I am and I always will be,
my mother says this,
as she plants a kiss
on my cheek: she will always love me!


From Itches Inside My Head (Year of Encouragements Press, 2022).
Used here with permission.
†
†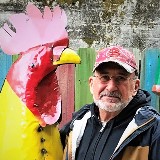 Randy Mazie grew up in New York City, made South Florida his home for many years, and now lives in the North Georgia mountains. He has Master's Degrees in Social Work from Columbia University and Business Administration from Barry University. Randy's non-fiction work has been published in professional journals and his poetry and short stories have appeared in numerous journals and anthologies. Learn more about him at www.ayearofencouragements.com.
Wilda Morris:
Love it! Yes, I knew my mother would always love me - and I will always love my children and grandchildren and great-grandchildren, no matter what!
Posted 10/03/2022 12:12 PM
maryricketson311@hotmail:
Sounds and images capture the well known love, mother to son, the kind that keeps the world going. Bravo, Randy.
Posted 09/30/2022 07:54 AM
TheSilverOne:
Love this!
Posted 09/29/2022 04:13 PM
Anastasia:
Mom sees you as your best self!
Posted 09/28/2022 05:04 PM
Larry Schug:
Mom saves the day once more!
Posted 09/28/2022 04:45 PM
Lori Levy:
Great poem. Love the humor.
Posted 09/28/2022 01:48 PM
paradea:
Love, love, love this poem!!! Finally, another Shel Silverstein!!!
Posted 09/28/2022 11:11 AM
Michael:
I had/have big ears, Randy . . . your poem resonates!
Posted 09/28/2022 09:40 AM
cork:
I enjoyed the rhythm and the rhyme reading aloud.
Posted 09/28/2022 09:16 AM
caroljean:
Your poetry always gives me a laugh and makes me smile.
Posted 09/28/2022 08:37 AM
Joan Luther:
Wonderful rhythm!
Posted 09/28/2022 06:26 AM