All the letters of the alphabet
   The righteous way should choose,
But two of them, especially,
   Should mind their P's and Q's;
A deal of trouble in this world,
   And much that goes awry,
Could be prevented easily
   By these two, U and I.

If U and I are cross, you see
   There's bound to be a fuss;
If U and I untidy are,
   Somewhere there'll be a muss.
If U and I are selfish, there
   Will some one suffer wrong;
If U and I rob birds' nests, why,
   The world will lose a song.

If some one feels dejected, or
   'Tis cloudy for a while,
The sunshine may come back again
   If U or I but smile.
If U should grumble, whine, or pout,
   Or I should snarl and fret,
A storm would soon be raging that
   We should not soon forget!

So U, look out, and mind your ways!
   As I must likewise do,
And keep a cheery corner where
   The skies are always blue.
The A's and B's and E's and O's
   Do work that's good and great,
But U and I can do the most
   To keep this old world straight.


This poem first appeared in The Christian Advocate (November 10, 1910) with the title "U and I."
It appeared as above in The Herald and Presbyter (April 17, 1912).
It is now in the public domain.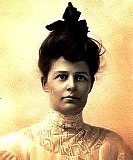 Pauline Frances Bishop Camp (1862 - 1939) was born in Boston, Massachusetts, a great-granddaughter (seventh generation) of the Mayflower passenger, William Brewster. A gifted artist, poet, and writer, her articles and poems appeared in numerous publications during her lifetime. Pauline moved to Springfield, Missouri after marrying Dr. Walter Camp, where she enjoyed raising flowers to share with the sick and indigent and was an active member of her Presbyterian church.
Wilda Morris:
Excellent poem! Thank you for sharing it!
Posted 10/03/2022 11:57 AM
mail@schoolbusmart.com:
How true about me and you. Oh my! No, wait that was supposed to read U and I. Randy Mazie
Posted 09/29/2022 04:04 PM
Tracers645:
Can we send this to Washington? Sweet poem. :-)
Posted 09/29/2022 11:51 AM
Darrell Arnold:
Oh so brilliant. If only I had a beautiful mind like hers. She gives me much to strive for.
Posted 09/29/2022 09:45 AM
Michael:
Wonderful discovery, Jayne, of a much neglected voice. This is good advice in any age, especially the current one!!
Posted 09/29/2022 09:14 AM
Larry Schug:
A good poem from a good woman, still pertinent.
Posted 09/29/2022 08:29 AM