A runner passes,
bobbing like the needle
on a slow-moving sewing machine,
flickering in the sunlight
that falls through the trees,
as if dematerializing,
diminishing,
till he's not much larger
than an exclamation point.

I stop to talk to a dog.
Her name is Sadie,
her owner says.
Friendly name for a dog, I say.
I stop for a fuzzy cat.
It looks severe
but, uncatlike,
comes right up to me.
Charlotte, its name tag says.
Clearly a feline of lineage.

Bicyclists pass:
some properly uniformed
in Star Trek helmets and Spandex,
some violating the dress code shamelessly;
families with kids on small bikes,
littler ones in child seats and trailers,
like passengers in limousines;
guys with babes
deeply décolletéd,
some with mates more sedate.

I walk, don't ride.
My wife took my bike away
for my eightieth birthday.
You're too old to bike, she said,
I don't want to have to take care of you
if you fall and break something.
Bye-bye bike;
after all these years
my biking days finis.
Got no ticket to ride,
but I don't care.
The bike path's still there
and I can ambulate,
as my stepfather,
born in 1895,
was fond of saying,
on shanks' mare.


© by Richard Greene.
Used with the author's permission.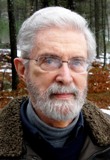 Richard Greene began writing poetry in the 8th grade, inspired by the opening lines of Longfellow's "Evangeline"—"This is the forest primeval. The murmuring pines and the hemlocks / Bearded in moss and in garments green, indistinct in the twilight"—which he was required to read in class. In college, after a classmate deemed Richard's rhyming poem "trite," he stopped writing until, a couple of years later, a class with Henry Rago, subsequently editor of Poetry magazine, inspired him to resume his efforts. But poetry fell by the wayside for almost forty years as a busy career in international development consumed his life. As retirement approached, however, Richard's dedication to poetry returned; he has since published three chapbooks: The Broken Guitar: Poems of War; Becoming Old: Poems of Aging; Painting with Words: Landscapes in Verse; and one full -length collection, To Talk of Many Things: Selected Poems. Richard, who lives in Nyack, New York, shares a "poem of the week" with anyone interested; get on his mailing list by requesting it at greeneplace@gmail.com.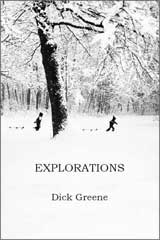 MLove:
I was just sure you live in Travelers Rest, SC and walk on the Swamp Rabbit Trail each morning as I do. You have perfectly described my walk! Delightful!
Posted 10/10/2022 04:49 PM
Anastasia:
Wonderful poem, Dick! Thank you! I may be walking more slowly,and maybe not quite as far, but I am still walking!
Posted 10/09/2022 04:38 PM
DavidTookey:
A perfect poem for my 61st birthday. Thank you for sharing it with us!!!!!
Posted 10/09/2022 12:46 PM
Lori Levy:
Like the tone of acceptance in this poem and the way the people and animals on the bike path are portrayed.
Posted 10/09/2022 11:26 AM
BikeWalkBarb:
Love the images here. I plan to get a trike or e-trike when my biking days are over, though--I don't want to lose that freedom to go farther. After all, if your biking days are over you likely don't have the reflexes for driving, when decisions come at you much, much faster.
Posted 10/09/2022 10:33 AM
Sharon Waller Knutson:
I love this wise photographic poem. My favorite image is: "A runner passes, bobbing like the needle on a slow-moving sewing machine, flickering in the sunlight that falls through the trees, as if dematerializing, diminishing, till he's not much larger than an exclamation point."
Posted 10/09/2022 09:33 AM
cork:
I am 86 and my bike is on the shelf.
Posted 10/09/2022 09:27 AM
Gilbert Allen:
That first image is nifty. And, as my physical therapist says, motion is lotion.
Posted 10/09/2022 09:26 AM
Larry Schug:
Indeed, the path is still there. It's up to us to walk it or not. This poem chooses to continue.
Posted 10/09/2022 08:21 AM