Tiny, frenetic, gray-feathered
acrobats swing through the bottle
brush— upside down, sideways,
helter-skelter— scouring the red
inflorescences for bugs and spiders.
Crowds of thirty or more fly in as if
jet-propelled, perform Olympian
gymnastics as they forage, then
jet off to neighborhood shrubs
as if some bush telegraph
beckoned them to stage yet another
stellar backyard performance on a
new stage.


© by Norma Wightman.
Used with the author's permission.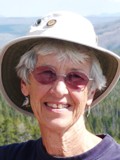 Norma Wightman lives in Morro Bay, California, where she walks the beach daily, leads nature hikes in local state parks, and enjoys yoga, kayaking, and birding around the beautiful central coast. Norma's poems have appeared in local publications and art exhibits and she has published chapbooks for family and friends. Her inspiration, she says, comes from everyday items and nature.
Anastasia:
A fun and picturesque poem! Thank you, Norma!
Posted 10/11/2022 02:43 PM
Lori Levy:
Great portrayal of these birds!
Posted 10/11/2022 01:40 PM
KevinArnold:
Oh my the real dictionary and the alternatives must have fun with this. Thanks, Norma.
Posted 10/11/2022 12:00 PM
CamilleBalla:
Thank you, Norma and Jayne, too for providing the sound.
Posted 10/11/2022 11:33 AM
CamilleBalla:
New word, new lesson for the day from California-way. Thank you, Normaand Hayne, too, for providing the sound. : )
Posted 10/11/2022 11:31 AM
cork:
My wife told me that we do have bushtits, but that they have migrated. I will look for them in the spring.
Posted 10/11/2022 10:41 AM
paradea:
I misread the title...reminded me of when my relatives used to take their personal business out back for all the neighborhood to see and hear!!! After I stopped laughing and regained my composure, I read a lovely poem!!! Thanks, Norma!!
Posted 10/11/2022 10:01 AM
Wilda Morris:
A fun poem! You put me there virtually. Now I'd like to be there in-person!
Posted 10/11/2022 09:46 AM
cork:
Did you know Annie Candelaria? How many poets live in Morro Bay? I have never seen a bushtit but will make it a goal.
Posted 10/11/2022 09:40 AM
Michael:
One feature of a good poet is the keen eye of observation . . . Norma is a good poet . . . she "places" me in the action!
Posted 10/11/2022 09:08 AM
caroljean:
My mother lived in Santa Maria and I always loved the bottle brush trees. Your poem provides a great visual picture of the birds' foraging.
Posted 10/11/2022 08:53 AM
Larry Schug:
Thanks for sharing this sighting with me, Norma. Birds are an important element in my wife's and my enjoyment of life. Your words take me to your back yard.
Posted 10/11/2022 07:57 AM