I.
Cats pad from one sun-warmed
stone to another. Bees lament
the sweet ripe fruit
†
denied by springís late hard frost.
Birds stow mating calls
for another season.
†
Clouds scribble pithy prose,
criss-cross pages surrendered
by autumnís azure.
†
Flower beds brown as they thin
and cricket song stitches †
a coverlet against evening chill.
†
II.
In my first autumn at home
since I was three
I rustle leaves at my feet
like a past I can rake and pile.
Energized by autumnís aura
I glean clarity
of what lies fallow
and what Iíve put up for my winter.


© by Nancy Jentsch.
Used with the authorís permission.
†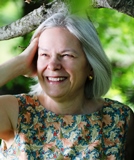 Nancy K. Jentsch calls herself "a second-career poet," having taught German and Spanish at Northern Kentucky University until 2020. She claims to now be "walking through life looking for just the right words, enjoying the thrill of the hunt and the mystery of the power of language." Nancy' is the author of Authorized Visitors and her new collection, Between the Rows, has just been released. Her work has appeared in various online and print journals and in several anthologies. Nancy says one of the best compliments she ever received was a friend's comment about one of her poems: "I don't like poetry, but I like this." Learn more about Nancy, who lives in Camp Springs, Kentucky, at https://jentsch8.wixsite.com/my-site.
jamvan:
Wow! What a fabulous poem. Especially love the cloud analogy - and the crickets AND the bees.... beautiful :)
Posted 10/13/2022 10:00 PM
Lori Levy:
Beautiful language.
Posted 10/12/2022 11:47 AM
paradea:
I like the second stanza as a stand-alone poem!!
Posted 10/12/2022 10:01 AM
Michael:
Like the lilting, internal rhyme in this poem, Nancy. Delightful piece.
Posted 10/12/2022 09:57 AM
Jancan:
This is a lovely, vividly descriptive poem. Expressive figures of speech allude to the meaning of life.
Posted 10/12/2022 09:35 AM
cork:
I love your scribbling clouds more than vieenees.
Posted 10/12/2022 09:23 AM
Angela Hoffman:
I feel this-this approaching winter. A beautiful poem.
Posted 10/12/2022 08:39 AM
Joan Luther:
Clouds scribble love the phrases feeling
Posted 10/12/2022 08:32 AM
Larry Schug:
"October Afternoon" resonates with me. I like how the poem leads up to the last three lines.
Posted 10/12/2022 07:13 AM