October is the treasurer of the year,
And all the months pay bounty to her store;
The fields and orchards still their tribute bear,
And fill her brimming coffers more and more.
But she, with youthful lavishness,
Spends all her wealth in gaudy dress,
And decks herself in garments bold
Of scarlet, purple, red, and gold.

She heedeth not how swift the hours fly,
But smiles and sings her happy life along;
She only sees above a shining sky;
She only hears the breezes' voice in song.
Her garments trail the woodlands through,
And gather pearls of early dew
That sparkle, till the roguish Sun
Creeps up and steals them every one.

But what cares she that jewels should be lost,
When all of Nature's bounteous wealth is hers?
Though princely fortunes may have been their cost,
Not one regret her calm demeanor stirs.
Whole-hearted, happy, careless, free,
She lives her life out joyously,
Nor cares when Frost stalks o'er her way
And turns her auburn locks to gray.


This poem is in the public domain.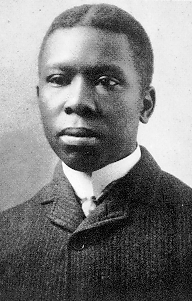 Paul Laurence Dunbar (1872-1906) was from Ohio. He wrote his first poem at the age of six, was editor of his high school newspaper, and published his first book at twenty. His writing attracted attention from the very beginning, and Paul became well-known in both America and around the world. Like James Whitcomb Riley, who was a fan of his young contemporary's work, Paul wrote many of his poems in dialect. Besides a dozen books of poetry, Paul wrote four short story collections, five novels, a play, and the first Broadway musical ever written and performed by African-Americans. A tremendously successful poet whose work was being published in all the major literary publications of his day, Paul's life was cut tragically short by tuberculosis.
Wilda Morris:
Thank you, Jayne, for sharing this luscious poem.
Posted 10/24/2022 09:20 AM
paradea:
This is one I want to memorize, and recite when I'm feeling melancholy!!! Love it!!!
Posted 10/21/2022 10:28 AM
cork:
October is quite a woman. I am in love with her after reading Paul's poem.
Posted 10/21/2022 09:22 AM
Darrell Arnold:
I've looked at this poem in two ways. The first is to enjoy the imagery, comparing it favorably to my own many mostly joyful experiences with Octobers past. It is quite remarkable. Secondly, I have studied and pondered the complicated and unusual line construction and varied rhyming scheme. I've never read anything like this, let alone tried to write a poem in this way. The bottom line, though, for me, is it has rhyme and meter, arranged in a creative way, and I like it.
Posted 10/21/2022 09:07 AM
Michael:
Love the lilting rhythm in Mr. Dunbar's near perfect use of iambic pentameter. Wonderful post, Jayne. This is a song!
Posted 10/21/2022 09:02 AM
Larry Schug:
I can almost see Dunbar's eyes shining with this vision and feel his heart beating as he writes.
Posted 10/21/2022 07:34 AM
Joan Luther:
Thank you for sharing this one! October feels like such a celebration in this.
Posted 10/21/2022 06:25 AM