Just when Iíve gotten home,
a little stooped, lacking in reserves,
it sometimes catches me off-guard:
a late day sun beaming
almost horizontal
through the windowpanes.
†
The darkening front rooms
of the house crouch,
transfixed around
a dense yellow shaft or two
and suddenly I notice
a refraction,
physics in a rainbow,
light scattered by a flaw of glass.
I play my fingers
through its fan of hues.
Transient, so transient.
Then Iím assured
what light is left for me
still radiates to many paths,
each in its own way bright.


© by Eric Forsbergh.
Used with the authorís permission.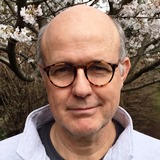 Eric Forsbergh retired from a career in dentistry in 2020, but then volunteered to be a Covid vaccinator for Loudoun County, Virginia. He has participated in dental mission trips to Guatemala and Appalachia and currently attends seminary with an emphasis on helping the poor. A Vietnam veteran, Eric is the author of one book, Imagine Morning, and has published more than fifty poems in various venues. When not writing or studying, he enjoys spending time with his two grandsons at his home in Virginia.
Wilda Morris:
Yes, a lovely poem.
Posted 10/24/2022 09:18 AM
paradea:
Lovely!!!
Posted 10/23/2022 08:13 PM
Lori Levy:
I can picture the scene. Beautiful.
Posted 10/22/2022 04:32 PM
Arlene Gay Levine:
A beauty of a poem that shines, all the way through, with hope.
Posted 10/22/2022 02:16 PM
CamilleBalla:
Nice. I like your reflection in the last four lines.
Posted 10/22/2022 11:26 AM
Michael:
I join Larry in praise of "Late Day Sun." I especially like the your rainbow refractions Larry.
Posted 10/22/2022 09:00 AM
Larry Schug:
I absolutely dig this poem. The words, themselves, glow along with the images they paint This glow becomes internal in me, the reader.
Posted 10/22/2022 08:00 AM
paula:
Love this!
Posted 10/22/2022 07:09 AM