Summer is stolen!
I hear the cry
Of blue jays screaming against
    the sky.
"Thief!  Thief!  Thief!  Thief!"
Summer is stolen
And each green leaf
Has been slashed with scarlet
And drips with gold.
Summer is stolen!
The tale is told.

Summer is stolen,
The birds take flight
To follow the chase in the autumn
    night.
And now the thief has
What he's after—
Summer's green and summer's laughter.


© by Marilyn Fais.
Used with the author's permission.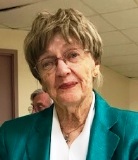 Marilyn Fais is a retired elementary school teacher who wove her delight in both words and the natural world into the lives of her students and through her own life, as well. Even while mothering three daughters, building a family cabin on reclaimed, lumbered land in Pennsylvania, and taking summer camping trips, including one by canoe (built by her husband of 60 years) down the Missouri River, she always wrote poetry. Marilyn has had poems published in a number of different magazines, but her family most treasures the yearly birthday and valentine poems she continues to write even now, into her nineties.
Wilda Morris:
Great use of repetition!
Posted 10/24/2022 09:17 AM
Lori Levy:
Unusual perspective. Beautifully expressed.
Posted 10/23/2022 09:16 PM
carlpalmer:
clever rhythm and rhyme
Posted 10/23/2022 01:21 PM
vortex:
absolutely wonderful!
Posted 10/23/2022 10:28 AM
cork:
Summer's thief has sprinkled snow and discovered my flannel-lined jeans.
Posted 10/23/2022 10:19 AM
KevinArnold:
Courageous to use those long rhyming lines. Fun.
Posted 10/23/2022 10:07 AM
mail@schoolbusmart.com:
Very nice. I especially enjoyed reading it aloud! Randy Mazie
Posted 10/23/2022 08:36 AM
Darrell Arnold:
Beautifully constructed. Nicely done.
Posted 10/23/2022 08:25 AM
Michael:
Like everything about this poem: repetition, rhyme, cadence, imagery. Best of all emotional impact! Thank you, Marilyn
Posted 10/23/2022 08:22 AM
bbatcher:
A very strong metaphor!! Well done!!
Posted 10/23/2022 06:47 AM