'Tis the holiday season,
upon us at last—
three months of ebullience
and hearty repasts.
First, black and orange bedlam,
Halloween hue and cry,
then turkeys and pilgrims
and Gran's pumpkin pie.
December descends in
the arms of Jack Frost,
a month of abundance,
no matter the cost.
Presents and pageants
and parties galore,
carols and cards…
everywhere, such décor!
In the year's final season,
blessings abound:
time with family and friends
as we gather around…
precious memories rekindled
as new ones are made…
and hope springs as plans for
the future are laid.
The holiday season's exhausting,
for sure, but for all of the work
and expense we endure,
we're rewarded with thoughts
that will last through year end—
so, grateful, we'll do it all over again!


© by Jayne Jaudon Ferrer.
Used with the author's permission.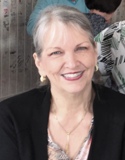 Jayne Jaudon Ferrer is the author of five books of poetry, a nonfiction book about games, and a novel, Hayley and the Hot Flashes. Jayne created www.YourDailyPoem.com in 2009 to share the pleasure and diversity of poetry. A former copywriter, magazine editor, newspaper columnist, and freelance journalist, her work has appeared in hundreds of publications. When not writing or reading, Jayne enjoys music, old movies, gardening, hiking, and good conversation. A native Floridian, she has lived in Greenville, South Carolina, for the past 28 years. Learn more about her at www.jaynejaudonferrer.com.
CamilleBalla:
A nice upbeat look to the holidays. I can feel the energy by the rhythm.
Posted 10/30/2022 06:30 PM
jayne:
It's all the falling leaves. Puts me in such a happy mood!
Posted 10/28/2022 09:58 AM
Wilda Morris:
What a delightful look at the last three months of the year!
Posted 10/28/2022 08:44 AM
Lori Levy:
Great to read a poem so full of joy and appreciation.
Posted 10/27/2022 06:47 PM
jentsch:
I love the way you bring the poem around to the rewards!
Posted 10/27/2022 06:35 PM
tricia1974:
I love this!! So crafty how you summed up the days ahead🥰
Posted 10/27/2022 01:11 PM
TheSilverOne:
Fun poem! May we all be blessed with a good upcoming year!
Posted 10/27/2022 12:32 PM
DavidTookey:
"...blessings abound: time with family and friends as we gather around" This says it all.
Posted 10/27/2022 11:31 AM
peninsulapoet:
Delightful!
Posted 10/27/2022 11:18 AM
Michael:
Whoever said, "Poetry is music," would have affirmed this fine poem as just that! Congratulations, Jayne, on pulling together 3 of our favorite seasons.
Posted 10/27/2022 09:04 AM
Darrell Arnold:
Of course, old-school Darrell loves the rhyme and the meter, but, more than anything else, I love the uplifting and positive message. Though at times hectic -- shopping, crowds, traffic, etc. -- the holiday season IS a joyful time of doing for others, of reacquainting with loved ones, of gathering with friends, and, of course, of renewed awareness and gratitude for our abundance of blessings. Thank you for this terrific poem.
Posted 10/27/2022 08:44 AM
Nabby Dog:
It's a special pleasure to read in such delightful verse the coming attractions of the holiday season. This poem overflows with eloquent joy!
Posted 10/27/2022 08:35 AM
tiddles:
So much to look forward to with gratitude. Thank you, Jayne, for all you do by providing uplifting poetry. MZWindau
Posted 10/27/2022 08:31 AM
Larry Schug:
The heart of this poem lies in the last line--"be grateful".
Posted 10/27/2022 07:51 AM
mail@schoolbusmart.com:
Again and again with smiles and love, and gratitude to the One up above. Nice piece and happy holidays to you and your family. Randy Mazie
Posted 10/27/2022 07:11 AM
Joan Luther:
What a celebration and I danced through the your poem!!
Posted 10/27/2022 05:42 AM
paula:
Yes, we will!
Posted 10/27/2022 05:02 AM