Not long ago
when your foliage was glossy green
you reminded us of new beginnings
of cool spring air and fragrant inklings
of new things.

How the seasons resemble
the way life is—
favorable transformations of the wind
bring changes—
we feel part of an immense activity
in which all of nature participates:

the falling away of seasons
effortless mingling of snow and sun
of mornings and summer
of evenings in June with fireflies flickering—
and now autumn

that slow encroachment of loss—
hints of a greater loss
when trees don
their gold and crimson robes—
would that we
live in the glory of time and eternity.


© by Michael Escoubas.
Used with the author's permission.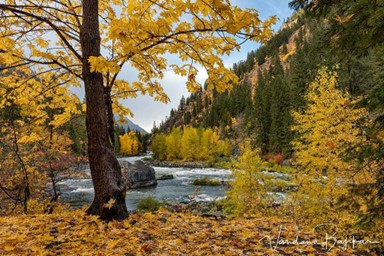 Photograph taken in the foothills of Leavenworth, Washington, by Vandana Bajikar.
Learn more about Ms. Bajikar at http://quillandparchment.com/archives/Nov2022/vand.html.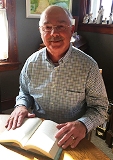 Michael Escoubas began writing poetry for publication in August of 2013, after retiring from a 48-year-career in the printing industry. He writes poetry because, early in life, his mother encouraged him. Michael also writes poetry because he believes poetry brings people together and that poets are menders of broken things. Michael is the author of five collections--Light Comes Softly, Monet in Poetry and Paint, Steve Henderson in Poetry and Paint, Little Book of Devotions: Poems that Connect Nature, God, and Man, and his most recent, Images: A Collection of Ekphrastic Poetry.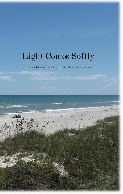 CamilleBalla:
Very nice poem that makes me pause in time, viewing natures rich gold. It pairs well with the beautiful photography.
Posted 10/30/2022 06:43 PM
Jancan:
Vividly dscriptive piece conveying an appreciation for nature
Posted 10/26/2022 09:05 PM
Michael:
Friends, thanks one and all, for your gracious comments on "Just Gold." It is a privilege to work with my colleague, Vandana Bajikar to create art that people enjoy.
Posted 10/26/2022 03:05 PM
Lori Levy:
Beautiful and wise, goes well with the photo.
Posted 10/26/2022 01:40 PM
Arlene Gay Levine:
Well said, Michael. The flow of words here is like the seasons themselves...
Posted 10/26/2022 12:42 PM
Wilda Morris:
A lovely poem to read this morning as the trees outside my window sparkle with drops from yesterday's rain on their golden leaves.
Posted 10/26/2022 10:54 AM
cork:
It is 13 here in Pinedale, WY this morning.
Posted 10/26/2022 09:02 AM
mail@schoolbusmart.com:
If only we could live in the glory of time and eternity, which we do but only, if we are watchful, through the seasons of our short lives.
Posted 10/26/2022 08:38 AM
RonPoems:
I love the appreciation and flow.
Posted 10/26/2022 07:44 AM
Larry Schug:
Very graceful--full of grace, that is.
Posted 10/26/2022 07:37 AM
Joan Luther:
Lovely! Enjoying the rhythm and transition.
Posted 10/26/2022 06:55 AM