He is painting that same mountain again.
You know it. It looks like the Matterhorn
but is probably really in the Canadian Rockies.
Bogus, Bob, I think, considering I place his accent
some'eres outta West Virginia most like; and besides,
in our writers' group, we are wont to say you
best stick to writin' what you best know.
 
Then he moves from that white tri-face, loading his
fan brush with so much color and—spoosh, spoosh, spoosh,
right before my eyes, he erects the loveliest pine tree.
 
It's not how he paints that keeps me rapt, however, but what he says.
"No tree stands alone.  Every tree needs a friend."
And spoosh, spoosh, spoosh there are two, three, four trees
suddenly swaying alongside his mountain lake, soughing
and sighing in the sweet wind sweeping down that majestic range.
 "I think some happy little bushes live there." Spoosh, spoosh, spoosh.
 "Maybe another happy little tree lives here."
 
By the end of the thirty minutes, I am a gone dog.
I vow to buy some oils, sign up for a class, maybe even
send in for his series.
 
All because his real art lies in his benediction. So easy, so pure,
going down warm like Grandma's liniment on ricked muscles.
He bids me treat myself well, treat others well,
and come back and see him real soon.


This poem first appeared in Volume One On-line (June 2019).
Used here with permission.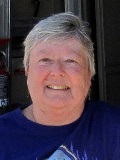 Yvette Viets Flaten was born in Denver, Colorado, and grew up in an Air Force family, living in Nevada, North Dakota, and Washington State as well as France, England, and Spain.  She holds a Bachelor of Arts in Spanish and a Master of Arts in History, and her award-winning poetry has appeared in numerous journals. Yvette now lives in Eau Claire, Wisconsin, near the mighty Chippewa River.
Wilda Morris:
A lovely tribute!
Posted 10/31/2022 10:36 AM
TheSilverOne:
Love Bob Ross, love this poem, and the humor. I had just watched a Ross rerun.
Posted 10/29/2022 02:00 PM
Adriana:
Never heard of Bob Ross but this tribute is utterly charming...
Posted 10/29/2022 01:58 PM
Lori Levy:
Like the humor in this poem and especially like the line, "going down warm like Grandma's liniment on ricked muscles."
Posted 10/29/2022 01:48 PM
paradea:
This poem is as sweet as one of Bob Ross's 'happy little clouds'!! I love it!
Posted 10/29/2022 01:34 PM
peninsulapoet:
I don't know Bob Ross, but I love this poem.
Posted 10/29/2022 10:45 AM
Sharon Waller Knutson:
I love visual poems with wit and wisdom. I can see Bob painting the same mountain, hear the skepticism in the speakers voice turn to admiration as we hear the spoosh, spoosh, spoosh, of his paintbrush and watch the trees multiplying and I too become a believer even though I can't draw a straight line.
Posted 10/29/2022 10:25 AM
Leslie Hodge:
Love the warm connection between the narrator and the subject.
Posted 10/29/2022 10:04 AM
Michael:
I feel like I'm in the studio audience! Well done, Yvette.
Posted 10/29/2022 09:06 AM
vortex:
Love this poem. It really captures the magic and the kindness of Bob Ross! Thanks
Posted 10/29/2022 08:21 AM
mail@schoolbusmart.com:
And you blessed us with your benediction which was like grandmas liniment on my ticked muscles. What a great poem you drew! Randy Mazie
Posted 10/29/2022 08:20 AM
Larry Schug:
Everything s poem should be and a very nice tribute to art as well as artist. I loved the use of dialect. I'm going to google Bob Ross. I hope I find some of hid work.
Posted 10/29/2022 08:01 AM
joanjeff@wctc.net:
What a wonderful way to start the day. Thanks, Yvette, for a delightful poem.
Posted 10/29/2022 07:50 AM
joanjeff@wctc.net:
A delightful way to start the day. Thanks!
Posted 10/29/2022 07:49 AM