Getting into
the spirit of things,

a squirrel admires
our backyard's
pumpkin decoration

a mouthful
at a time.


© by Robert K. Johnson.
Used with the author's permission.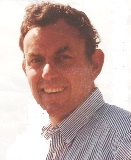 Robert K. Johnson writes poems about our everyday world, which, he says, "has always gripped me much more than science-fiction worlds." A former English professor at Suffolk University in Boston, he was the poetry editor for Ibbetson Street magazine for several years. Robert is the author of four collections; he lives in a suburb near Boston.


Wilda Morris:
So I'm not the only one with critters chewing on the pumpkin on my porch! A well-written miniature poem!
Posted 10/31/2022 10:32 AM
TheSilverOne:
What a fun poem!
Posted 10/30/2022 08:44 PM
Lori Levy:
Great!
Posted 10/30/2022 04:21 PM
Sharon Waller Knutson:
I love this sparse musical poem. Unique way of looking at Halloween.
Posted 10/30/2022 10:12 AM
mail@schoolbusmart.com:
CuteRandy Mazie
Posted 10/30/2022 08:59 AM
Michael:
Halloween is all about the squirrels! For sure. They all think they've died and gone to heaven here in Illinois, Robert! (Would like to show a few of them the way.)
Posted 10/30/2022 08:29 AM