After a photo by Karla Linn Merrifield
Where did you come from
white orb
stitched tight with red catgut
bruised, beaten

with hard sticks
then laughed at
as you arced toward Mars
careening wildly

off apartment house bricks
the smudges marring
your used-to-be pearl
finish—the batter

who tattooed you
with his autographed
Anthony Rizzo
Louisville Slugger—

dreams of playing
for the Cubs or Mets
or Dodgers—
his talent, like the ball,

rests on the fault-line
of greatness—one nudge
this way or the other—
baseball: a game of inches.


© by Michael Escoubas.
Used with the author's permission.
Photo credit: Karla Linn Merrifield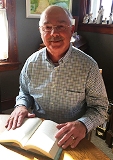 Michael Escoubas began writing poetry for publication in August of 2013, after retiring from a 48-year-career in the printing industry. He writes poetry because, early in life, his mother encouraged him. Michael also writes poetry because he believes poetry brings people together and that poets are menders of broken things. Michael is the author of five collections--Light Comes Softly, Monet in Poetry and Paint, Steve Henderson in Poetry and Paint, Little Book of Devotions: Poems that Connect Nature, God, and Man, and his most recent, Images: A Collection of Ekphrastic Poetry.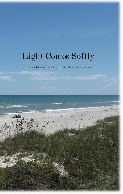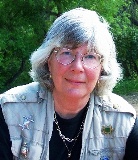 Karla Linn Merrifield's poems have appeared in dozens of journals and anthologies and she is the author of 14 books. Karla describes herself as "a poet who likes to go places" and "one who likes to take people places," attributes well-served by her appointment as a National Park Artist-in-Residence. Her latest book is a poetry collection, My Body the Guitar, inspired by famous guitarists and their guitars and nominated for the 2022 National Book Award. Learn more about Karla at https://www.karlalinnmerrifield.org/ and https://karlalinnmerrifeld.wordpress.com/.
Jo:
I second Wilda. A double home run. Congrats to Wilda and Karla and Jayne for posting this.
Posted 11/01/2022 10:53 PM
CamilleBalla:
Outstanding poem, Michael! Shows depth, skill of the craft, as seen from way out in the upper deck..
Posted 11/01/2022 03:56 PM
CamilleBalla:
Wow! This is great pairing. I didnt expect a double header all in one!
Posted 11/01/2022 03:00 PM
Lori Levy:
Love all the details in this poem--and how the poem, photo, and haiku work so well together.
Posted 11/01/2022 02:37 PM
carlpalmer:
Michael, another home run, bringing us all to your ballpark. Thank you, my friend.
Posted 11/01/2022 01:16 PM
Wilda Morris:
Thanks for sharing both Michael's poem and Karla's haiga! You hit a double (or home run) with these, Jayne!
Posted 11/01/2022 11:00 AM
Sharon Waller Knutson:
I enjoyed both the photo and the two poems. The visual effects, the action and the personalization of the ball knocked it out the park for me.
Posted 11/01/2022 10:53 AM
joecot:
Karla pitched and Michael belted it.
Posted 11/01/2022 10:14 AM
RonPoems:
I like this complementary baseball art and analogy.
Posted 11/01/2022 09:01 AM
Larry Schug:
Baseball poems never strike out with me. After reading these I immediately reached for the Ernie Banks Louisville Slugger that leans against my book shelf.
Posted 11/01/2022 07:52 AM
mail@schoolbusmart.com:
You might even say that this was a double header! What a hit! Randy Mazie
Posted 11/01/2022 07:41 AM
Anastasia:
Both poem and photo with haiku are wonderful! A double treat, indeed!
Posted 11/01/2022 05:32 AM