--with enormous admiration for Edgar Allan Poe's 18-verse "The Raven"

Once upon a midnight eerie while I watched TV 'til bleary,
Mysteries and forgotten lore with haunted tales from days of yore.
While I nodded, buzzing, sawing, came a scratching and a clawing
As my dog was leaping, lunging, jawing at my backyard door.
Not the usual rabbit, I muttered, gnawing by my patio door,
No, this must be something more.

Halloween can be quite scary so I soon became quite wary:
How'd my dog, adored and dear, become a feral beast to fear?
Why'd my sweet chihuahua-terrier change herself to something scarier?
Whence this need at frantic speed to try to break a windowed door?
Peered into the October night fearing a sight I might abhor—
Moon and shadows, nothing more.

Grabbed my dog to help her calm, hoping hands provided balm.
Restraint ignored, with barks galore, she hurled herself up from the floor.
Then I saw it, ghostly white, standing out against the night,
Creeping up three steps, a fright, right up to the windowed door.
Slow and slower was its pace to press its face against the door.
My frenzied dog could take no more.

She placed her face against the glass exactly where the white face was.
Nervously I laughed, 'twas plain, the two seemed kissing through the pane.
Killer and prey with glass between was eerily weird on Halloween.
Face to face, they stayed in place, until the creature left to explore.
My dog still shaken to her core stayed riveted to the patio door.
But the white-faced possum came no more.


© by Alessandra Foster.
Used with the author's permission.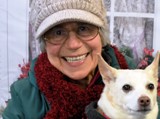 Alessandra Foster is a native New Yorker who has lived in Milwaukee, Wisconsin for the past two decades. A life-long and long-lived reader and writer of poetry, she is a fan of TCM and Hallmark movies, has been a vegan for 40+ years, and is the grateful companion to a normally sweet-tempered (indoors) 16-year-old chihuahua-terrier named Diamond, who definitely lost it on this particular Halloween!
Sara1949:
Ah, the genius and style of Poe came through beautifully in this brilliant poem!
Posted 11/01/2022 08:54 AM
Jancan:
Absolutely brilliant--a superb, highly entertaining and skillfully written parody!
Posted 10/31/2022 10:55 PM
Adriana:
Thanks so much, everyone, for your lovely uplifting comments. I must admit to receiving some great suggestions from our wonderful editor when I was struggling to write this - said she couldn't resist using her English degree! I love Sharon's sympathy for my dog! While the possum may have added some excitement to her boring life, it was probably frightening to be so totally out of control.
Posted 10/31/2022 08:05 PM
Anastasia:
What fun! And quite well done!
Posted 10/31/2022 04:43 PM
Lori Levy:
Great job!
Posted 10/31/2022 03:41 PM
carlpalmer:
I'll be forwarding this one, Alessandra, so clever and timely.
Posted 10/31/2022 01:30 PM
TheSilverOne:
Brilliant!!! Loved every line! ~ Doris Bezio
Posted 10/31/2022 11:48 AM
paradea:
Love this!!
Posted 10/31/2022 11:46 AM
Sharon Waller Knutson:
Poe would be proud of this picturesque poem. Poor little dog. I laughed out oud at the possum twist at the end. i thought it was a kid dressed as a ghost.
Posted 10/31/2022 10:45 AM
Joan Luther:
Suspenseful and fun! Nice work!
Posted 10/31/2022 10:42 AM
Wilda Morris:
What fun! Perfect for Halloween!
Posted 10/31/2022 10:29 AM
Manya:
Love it!
Posted 10/31/2022 10:10 AM
cork:
Parody is precious!
Posted 10/31/2022 09:50 AM
Gilbert Allen:
Nicely done!
Posted 10/31/2022 09:41 AM
PolarBear:
Dramatic, witty. Masterful rhyming. A delightful tribute to Poe's Raven. Perfect Hallowe'en poem. Thank you!
Posted 10/31/2022 09:11 AM
Darrell Arnold:
I love it, and I'm "laffin'". Ms. Foster obviously labored long and hard to create this wonderful poem. I have a special admiration for those who take the time to make it rhyme, with added meter to makes it sweeter.
Posted 10/31/2022 08:58 AM
Michael:
When I teach a class on great use of poetic devices this will be exhibit #1! Well done, Alessandra.
Posted 10/31/2022 08:50 AM
mail@schoolbusmart.com:
What a great fun read!! I appreciate all the work you put into it. Wow. Randy Mazie
Posted 10/31/2022 08:33 AM
NormaB:
Thank you for this delight! So appropriate since I just attended a reading of Poes The Raven!
Posted 10/31/2022 08:24 AM