Silently
      the river slides by
                on an invisible current
beneath a glistening surface
    as fiery reflections
         of red orange gold
                 float
                    in the stillness
                           of mirrored sky


© by Joan Kantor.
Used here with the author's permission.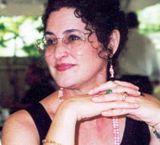 Joan Kantor lives with her husband in Collinsville, Connecticut. A college counselor and learning disabilities specialist for many years, Joan also has training in education and marriage and family therapy. Active in a number of poetry outreach efforts, she is a member of the International Academy for Poetry Therapy and collaborates with both visual artists and musicians in Stringing Words Together, an interactive program of poetry and violin music. Her most recent book is Filling in the Black: One Woman's Journey of Re-education (WovenWord Press).
Jancan:
Lovely, vivid descriptions in this concise poem
Posted 11/04/2022 10:22 AM
Lori Levy:
Beautiful image.
Posted 11/03/2022 03:22 PM
cork:
I feel the current in the shape of the poem.
Posted 11/03/2022 12:43 PM
CamilleBalla:
Beautiful! Great title for this poem!
Posted 11/03/2022 12:17 PM
Wilda Morris:
What a beautiful picture!
Posted 11/03/2022 10:20 AM
paradea:
Beautiful picture painted!!!
Posted 11/03/2022 10:09 AM
Michael:
Love the way your indentations create and enhance the river's flow, Joan. Well done!
Posted 11/03/2022 09:25 AM
Boston GIrl:
This one is a real keeper! What wonderful imagery.
Posted 11/03/2022 08:49 AM
Larry Schug:
The sky reflects the river--interesting point of view.
Posted 11/03/2022 07:56 AM
amberanthony338:
Coincidentally insightful.
Posted 11/03/2022 07:47 AM
mail@schoolbusmart.com:
Crisp beautifully painted poem like a Monet in words. Brava. Randy Mazie
Posted 11/03/2022 07:26 AM
Nicholas:
Beautiful, evocative, sparking the imagination, creating inner peace.
Posted 11/03/2022 05:32 AM