Only bougainvillea †
celebrates the drought
in dehydrated splendor
as leaves explode
in a red riot,
and bang fireworks
over the garage door.


© by Tere Sievers.
Used with the authorís permission.
†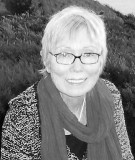 Tere Sievers admits, as a New Jersey transplant, it took a while for her to embrace the subtle seasons of Southern California. A long marriage to a native Californian, two daughters, and three grandchildren, though, have set deep roots for her in Long Beach. A retired Marriage and Family Therapist, Teri is the author of Striking Distance, a chapbook published by Arroyo Seco Press. "Writing poetry has helped me understand loss and the passage of time," she says.

†
Lori Levy:
Beautiful. I love bougainvillea.
Posted 11/04/2022 12:59 PM
CamilleBalla:
Bougainvillea over the garage door gorgeous!
Posted 11/04/2022 10:46 AM
cork:
I catch myself saying "bougainvillea" over and over striving for the best pronunciation.
Posted 11/04/2022 10:33 AM
Jancan:
effective use of vivid imagery and metaphor in this concise piece
Posted 11/04/2022 10:29 AM
peninsulapoet:
Perfect. Not a spare word.
Posted 11/04/2022 10:27 AM
Wilda Morris:
What a colorful miniature poem!
Posted 11/04/2022 09:54 AM
Michael:
This is truly a gorgeous plant . . . Teri's treatment only enriches my appreciation of it. Thank you, Teri.
Posted 11/04/2022 09:11 AM
jentsch:
I love the "dehydrated splendor" in the sparseness of this poem
Posted 11/04/2022 08:05 AM
Larry Schug:
Don't you just love to say "bougainvillea" aloud and think about "dehydrated splendor"? I do!
Posted 11/04/2022 07:42 AM