Feel this hush fall:

snowy drapes hang on windowsills

icy rinds sag wires

Massive moon sheds needles
into powdery cushions.

As cold prickles your toes,
discover the mute snowman—
glittery sentry gazes at you
through button eyes
under frosty eyebrows.

Take gloves off and wave—
when fingertips chill,                                                    
touch your raw cheeks

and rejoice at being alive.  


© by Peter Venable.
Used here with the author's permission.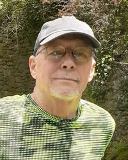 Peter Venable lives in Winston-Salem, North Carolina. A retired addiction clinician, he has been composing poetry for more than 50 years--free and metric, sacred and secular, normal and whimsical. He is the author of one poetry collection, his work has appeared in a number of journals, and he is an active member of the Winston-Salem Writers. When he's not busy helping to take care of his two granddaughters, Peter volunteers at a local prison camp, wins the occasional NC Piedmont Senior Games track and field events, and has been known to sing in local productions of the annual Messiah performance. Learn more about him at petervenable.com.
Lori Levy:
I feel cold just reading this. And alive!
Posted 11/07/2022 05:08 PM
Wilda Morris:
After I wrote my comment below, I clicked on the link and looked at the bio. Now I have some idea where this North Caroline poet might have experienced this.
Posted 11/07/2022 11:53 AM
Wilda Morris:
A beautiful winter poem. Yes, rejoice in being alive - whatever the weather. But how could a North Caroline poet write this? I was thinking Wisconsin, Minnesota, Illinois, Montana, Maine or . . . .!
Posted 11/07/2022 11:51 AM
Michael:
Brilliant use of imagery, Peter. You "place" us there. Nicely done.
Posted 11/07/2022 08:55 AM
KevinArnold:
An early winter.
Posted 11/07/2022 08:43 AM
Larry Schug:
Embrace the day. Embrace yourself. Thanks for the reminder, Peter.
Posted 11/07/2022 08:16 AM
Joan Luther:
Theres strength in really feeling your feelings; allowing our senses to be intensified by cold snowbeing truly in touch with nature.
Posted 11/07/2022 07:55 AM