Ho! it's come, kids, come!
"With a bim! bam! bum!
Here's little Billy bangin' on his big bass drum!
He's a-marchin' round the room,
With his feather-duster plume
A-noddin' an' a-bobbin' with his bim! bom! boom!

Looky, little Jane an' Jim!
Will you only look at him,
A-humpin' an' a-thumpin' with his bam! bom! bim!
Has the Day o' Judgment come
Er the New Mi-len-nee-um?
Er is it only Billy with his bim! bam! bim!

I 'm a-comin'; yes, I am -
Jim an' Sis, an' Jane an' Sam!
We'll all march off with Billy an' his bom! bim! bam!
Come hurrawin' as you come,
Er they'll think you're deef-an'-dumb
Ef you don't hear little Billy an' his big bass drum!


This poem is in the public domain.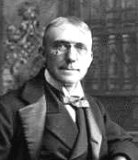 James Whitcomb Riley (1849 - 1916) was an American poet best known for his children's poems and dialect-based verses. James was born in Greenfield, Indiana, and later moved to Indianapolis; homes in both cities are preserved and open to the public today. James was hugely popular during his lifetime. A bestselling author who traveled the country speaking to sell-out crowds, he never married or had children of his own, but he loved children and they loved him back. When he died, more than 35,000 people came to pay their respects as James lay in state under the Indiana capitol dome.
Wilda Morris:
Fun! I like the variation in the repetitious lines, also.
Posted 11/07/2022 12:18 PM
Larry Schug:
I think this poem is successful because of the repetition of the sounds of banging on the drum, which is exactly what a child with a drum would make. There is no adult here to say, "that's enough".
Posted 11/06/2022 07:43 AM