The crow and the squirrel
who claim the large tree
outside my balcony,
meet each morning
to pontificate.
Sometimes, I join them.

This morning,
speaking three different languages,
we agreed the weather
has been lousy lately,
and we sure as heck donít need
any more rain.


This poem first appeared in Bramble (2020).
Used here with permission.
†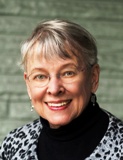 Peggy Trojan published her first poem when she was 77. (She's now 89.) Retired from teaching English, she lives in the north woods of Wisconsin next to a trout stream, where she writes and tends a raspberry patch so she can make jam. Peggy is the author of two full-length poetry collections and five chapbooks. Her newest release, PA, won second place in the 2022 Wisconsin Fellowship of Poets Chapbook Contest and won an Honorable Mention in the Poetry category of the 2022 Northeast Minnesota Book Awards.

MLove:
What a great poem! I love this!!!
Posted 11/13/2022 02:36 PM
CamilleBalla:
Cute and fun!
Posted 11/13/2022 01:09 PM
Sharon Waller Knutson:
I love poems that personify birds and animals. Love the unique idea of humans, birds and animals speaking different languages. Favorite line: we agreed the weather has been lousy lately, and we sure as heck dont need any more rain.
Posted 11/13/2022 10:14 AM
Lori Levy:
Love this idea of communicating in three different languages.
Posted 11/13/2022 10:07 AM
cork:
A cold wave is hitting Wyoming.
Posted 11/13/2022 10:01 AM
RonPoems:
Simple, eloquent, powerful.
Posted 11/13/2022 10:00 AM
Wilda Morris:
A great laugh to start the day! Love the poem, Peggy.
Posted 11/13/2022 08:30 AM
Larry Schug:
Oh my! Exquisite! Bravo!
Posted 11/13/2022 08:25 AM
Angela Hoffman:
Love this poem Peggy. I am from Wisconsin too and wrote my first poem late in life. Congrats on all the awards. Such a big thing!
Posted 11/13/2022 08:24 AM
paula:
Congrats on your book awards!
Posted 11/13/2022 07:00 AM
mail@schoolbusmart.com:
Very cute. Hoping you guys continue to babble on. LOL. Randy Mazie
Posted 11/13/2022 06:55 AM