tall and majestic,
a largely untested
elliptical stands all alone†
unused and unloved
in the corner was shoved,
its fullest potential unknown

bought with intention
physique reinvention
our purest ideals were in mind†
but its fate was decided,
its future unguided
upon it our clothing reclined.†
†
© by Elaine Sorrentino.
Used here with the authorís permission.
†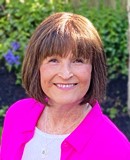 Elaine Sorrentino is a Communications Director by day, but a poet by night--finding inspiration in everyday things such as goats, cows, and Shetland ponies that wander into her yard. She says she is often most inspired at the least opportune moments: putting on makeup, driving to work, preparing for a dinner party, etc.† Elaine, who lives next to a farm in Pembroke, Massachusetts, tries to keep a notebook handy at all times, but has been known to text herself a line or two in the middle of the night.
†
Jancan:
Realistic, expressive piece
Posted 11/15/2022 08:58 AM
Lori Levy:
True!
Posted 11/14/2022 12:03 PM
RonPoems:
Intention and reinvention, very clever. Truly, a relatable poem.
Posted 11/14/2022 10:53 AM
paradea:
Yep. So true. I bought a rowing machine and the only exercise I got was jumping over it to get out of my bedroom!!! Love the poem!!
Posted 11/14/2022 09:40 AM
Boston GIrl:
So true! I liked it.
Posted 11/14/2022 08:59 AM
Darrell Arnold:
Clever rhyming scheme, humorous pome, astute observation. So many of us start out with sincere intentions, but most of those physical fitness machines are retired long before they quit working. I'm sure hundreds of thousands, or even millions of them wind up in trash dumps every year. Planned obsolescence isn't necessary. What a great industry, perpetuated by health and vanity!
Posted 11/14/2022 08:57 AM
KevinArnold:
With 'reclined,' I tried to make it sexy. Just me, I guess.
Posted 11/14/2022 08:45 AM
Larry Schug:
Yup, exercise equipment often turns into a convenient place to literally hang your hat (or jacket or sweat shirt or wet socks) he says, sweatshirt hanging on the exercise bike. Nice observation and worthy of a poem, too.
Posted 11/14/2022 08:41 AM
Joan Luther:
We hunt for the right item and let it gather for us. Very relatable poem!
Posted 11/14/2022 08:09 AM