Cows in the stall and sheep in the fold;
Clouds in the west, deep crimson and gold;
  A heron's far flight to a roost somewhere;
  The twitter of killdees keen in the air;
The noise of a wagon that jolts through the gloam
             On the last load home.

There are lights in the windows; a blue spire of smoke
Climbs from the grange grove of elm and oak.
  The smell of the Earth, where the night pours to her
  Its dewy libation, is sweeter than myrrh,
And an incense to Toil is the smell of the loam
             On the last load home.


This poem is in the public domain.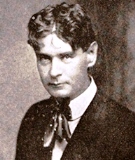 John Charles McNeill (1874 – 1907) was born and raised in North Carolina. Of Scottish ancestry, he grew up swimming, hunting, and fishing on his family's farm. He attended Wake Forest College, studying both English and law. John taught briefly at Georgia's Mercer University, then moved back to his home state to practice law. Despite success in both those careers, John's true love was writing. He freelanced for the Charlotte Observer for several years, publishing poems, articles, essays, and editorials. Sadly, this gifted writer died from a sudden illness at the age of 33, only two years after receiving from President Roosevelt North Carolina's first Patterson Cup award for "the highest literary skill and genius."
CamilleBalla:
And an incense to Toil is the smell of the loam Beautiful poem! Thank you,Jayne.
Posted 11/16/2022 10:27 AM
KevinArnold:
Interesting indention pattern and lineation.
Posted 11/16/2022 10:23 AM
paradea:
Beautiful and haunting!!
Posted 11/16/2022 10:18 AM
Michael:
I like McNeill's line, "a blue spire of smoke." This is my first exposure to this poet--truly a man of "literary skill and genius."
Posted 11/16/2022 09:22 AM
Jancan:
My kind of poem~~so lovely and descriptive!
Posted 11/16/2022 09:17 AM
Gilbert Allen:
"And an incense to Toil is the smell of the loam" is a terrific line.
Posted 11/16/2022 09:16 AM
Wilda Morris:
A beautiful poem!
Posted 11/16/2022 09:00 AM
Darrell Arnold:
I am so happy you are out there, Jayne, finding for us, your devotees, the works of all these inspirational and talented people. Coffee and YDP start my mornings.
Posted 11/16/2022 08:33 AM
Joan Luther:
Jayne: How wonderful to read his background! Thank you for sharing his words.
Posted 11/16/2022 07:19 AM