Donít you think the leaves,
green and twisting in the wind,
yearn to lose this camouflage?
Yearn to show their true colors?
†
Yet they keep themselves
in their viridescent aprons
preparing meal after meal
with the summer sun.
†
Their family of phloem cells
carrying food to their cambium
their roots, busy grafting with the roots
of neighboring trees.
†
But now, in autumn, the kitchen
closes.††Acorns ready to be born
to a new world.††The leaves
can finally relax.††Let go of the green
& let their flashy colors flair.


†© by Mary Ray Goehring.
Used here with the authorís permission.
†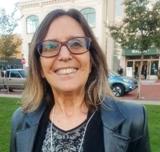 Mary Ray Goehring is a retired landscape designer who migrates between the Central Wisconsin prairie and the pine forests of East Texas and Louisiana.†Her poetry has been published in several online and print Maryís poetry is heavily influenced by nature, family, and friends.†
†
†
Jancan:
This vividly descriptive poem makes excellent use of personification and metaphor.
Posted 11/18/2022 04:44 PM
Orex1a:
I feel so calm. Absolutely wonderful!
Posted 11/17/2022 05:46 PM
Lori Levy:
Unique perspective!
Posted 11/17/2022 12:08 PM
CamilleBalla:
Clever and delightful as well as a biology lesson. And let their flashy colors flair!
Posted 11/17/2022 11:44 AM
PoemEnthusiast27:
Love the use of the word viridescent, it rolls off of the tongue so pleasantly.
Posted 11/17/2022 11:28 AM
RonPoems:
Great poem. I learned some biology and enjoyed a clever metaphor.
Posted 11/17/2022 10:50 AM
KevinArnold:
What a delightful poem, so full of subtle humor and knowledge of the natural world. Brava!
Posted 11/17/2022 10:01 AM
Wilda Morris:
Clever! I agree with Larry!
Posted 11/17/2022 08:19 AM
Angela Hoffman:
Love this metaphor of the tree ready to show its true colors, remove the apron, end the preparing of the food! Delightful.
Posted 11/17/2022 07:26 AM
Larry Schug:
"Mothers" has got it all--a biology lesson, a philosophy course, a study in metaphor, motherhood and birth and is a dang good poem.
Posted 11/17/2022 07:15 AM
ladyleo191:
Interesting and cute concept! Thanks for the smile.
Posted 11/17/2022 06:21 AM