Be grateful for the kindly friends that walk along your way,
Be grateful for the skies of blue that smile from day to day,
Be grateful for the health you own, the work you find to do,
For round about you there are men less fortunate than you.

Be grateful for the growing trees, the roses soon to bloom,
The tenderness of kindly hearts that shared your days of gloom,
Be grateful for the morning dew, the grass beneath your feet,
The soft caresses of your babes and all their laughter sweet.

Acquire the grateful habit, learn to see how blessed you are,
How much there is to gladden life, how little life to mar!
And what if rain shall fall to-day and you with grief are sad,
Be grateful that you can recall the joys that you have had.


This poem is in the public domain.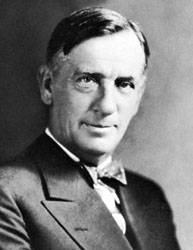 Edgar Guest (1881 - 1959) was born in England, but moved with his family to Detroit, Michigan, when he was ten years old. He worked for more than sixty years at the Detroit Free Press, publishing his first poem at the age of seventeen, then going on to become a reporter and columnist whose work was featured in hundreds of newspapers around the country. Edgar is said to have written some 11,000 poems during his lifetime, most of it sentimental, short, upbeat verse. Critics often derided his work, but America adored him. He was known as the "People's Poet," served as Michigan's poet laureate, hosted a long-running radio show and TV show, and published more than twenty books.
Michael:
I'm thankful for Edgar Guest!!
Posted 11/21/2022 09:23 AM
Darrell Arnold:
I try very diligently to live the kind of life Edgar suggests. His words could be my mantra. If others want to stress, I let 'em do it. They can do mine, too. I don't need it.
Posted 11/21/2022 08:50 AM
Carol:
The first verse would make a good entry in the old-fashioned autograph books of my youth. I still remember many of the verses and couplets of 'folk wisdom' etc from my book.
Posted 11/21/2022 05:34 AM