Despite all likely lonelinesses,
illnesses, and losses,
my wish is still
to one day be very old—to sit
beside the windowsill
like now, and know
the birds that come and go—
to quietly observe the snow
dissolve into a field of flowers.


From Kindness in Winter (Kelsay Books, 2021).
This poem first appeared in The Orchards Poetry Journal.
Used here with permission.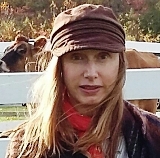 Sally Nacker is the author of three books of poetry, her most recent—Kindness in Winter—reviewed here by YDP poet/Quill & Parchment editor Michael Escoubas. Sally feels a wonder for the natural world and enjoys walking in all sorts of weather—particularly in rain and snow. She takes Thoreau's advice (and Nellie Teale's) about sauntering, and walks slowly. Sally lives in a small house in the woods with a picture window. Learn more about her at https://sallynacker.com/.
Lori Levy:
Beautiful. Especially like the last 2 lines.
Posted 11/22/2022 05:26 PM
Clifford:
It doesn't happen! The activities of daily living consume nearly all waking time in late eighties independent living. Sally's vision, and hope?, is nevertheless to be desired. Charles
Posted 11/22/2022 02:30 PM
Anastasia:
An excellent thought to keep in mind in the midst of the daily everything. Thank you.
Posted 11/22/2022 02:00 PM
Jancan:
Such a lovely, soothing piece!
Posted 11/22/2022 12:49 PM
KinVT:
Amen
Posted 11/22/2022 12:31 PM
paradea:
The sampling of other poems in the review by Michael Escoubas made me want to buy Sally Nacker's latest book! Lovely work!!
Posted 11/22/2022 11:37 AM
cscoville:
What a life-affirming poem! Thank you for describing a way of celebrating the miracles that surround us.
Posted 11/22/2022 11:33 AM
KevinArnold:
So strong to accept 'likely loneliness' as you look it in the eye.
Posted 11/22/2022 09:45 AM
Michael:
Beautiful sentiment Sally. This is among the blessings of poetry: transport to another time using uplifting words that bring peace to the spirit. Well done!
Posted 11/22/2022 09:16 AM
RonPoems:
I love the Ls in the first two lines and the simple punch in this poem.
Posted 11/22/2022 09:05 AM
Angela Hoffman:
Sally this is such a simple and beautiful prayer to say each day!
Posted 11/22/2022 08:46 AM
Wilda Morris:
Lovely poem. Short and to the point!
Posted 11/22/2022 08:29 AM
Larry Schug:
You paint a lovely picture, Sally. I feel graceful and grateful acceptance as well as those expressed in the first two lines, all in a very compact poem.
Posted 11/22/2022 08:17 AM