She was a flapper,
all in cool hat, beads, and flimsy dress.
She cruised on the Queen Mary,
visiting cities on both sides of the Atlantic.
Aunt Grace was gracious and generous;
helped Errol, her adopted son,
find his parents and family in Canada.
She gave my mom a spinet piano
so my brother could take lessons.

Thanksgiving in my early days
was celebrated at her home.
She always made sure
my brother and I shared a drumstick.
Grown-up, my job took me
by her hospice home.
I sat with her talking
about those early years,
holidays together as a family.
It brought memories,
smiles: Thanksgiving dinners
where Aunt Grace always took the neck.


© by Erle Kelly.
Used with the authorís permission.
†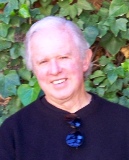 Erle Kelly, whose poetry has been published in a variety of print and online venues, lives in Long Beach, California. Retired from a career in marketing management, Erle tutors at a local elementary school and is active in a local poetry group. He and his wife, Kristine, enjoy traveling, visiting their grandchildren and great grandchildren, and tending their community vegetable garden.
†
†
†
Wilda Morris:
In my family, it was Aunt Irene who took the neck - and tail! Well done, Erle.
Posted 11/25/2022 08:56 AM
paradea:
Beautiful!!
Posted 11/24/2022 02:12 PM
BAMars:
A vivid, loving picture of your aunt. A portrait in contradictions as we all are. Lovely work, Erle.
Posted 11/24/2022 02:07 PM
Michael:
The neck was the only piece I liked when I was young. Don't know why. I could gnaw on it for a good hour while the rest of the family scarfed up the other parts!
Posted 11/24/2022 12:13 PM
Lori Levy:
Beautiful tribute to your aunt.
Posted 11/24/2022 11:55 AM
Adriana:
Have to laugh, always accused my generous and giving husband of being a chicken- neck personality!
Posted 11/24/2022 11:15 AM
peninsulapoet:
I love this one Erle!
Posted 11/24/2022 10:51 AM
joecot:
This poem had me with the first line. My mom was a flapper -- and a good soul, good scientist, a warm and loving gift to the world. Funny how we define -- or misdefine -- people with a label like flapper. Or hippie. Here's to all the good souls reading this, and Happy Thanksgiving!
Posted 11/24/2022 10:08 AM
Sharon Waller Knutson:
I fell in love with this unique visual uplifting poem from the title, Aunt Grace always took the neck. I can see the unconventional flapper with the big heart cooking a turkey and hosting the family on Thanksgiving Day. Happ0y Thanksgiving to all.
Posted 11/24/2022 09:53 AM
Larry Schug:
A poetic journey through a life. Love is expressed and remains in memory.
Posted 11/24/2022 07:50 AM