I was waiting for the train
in a dingy raftered room,
tired of screens with scrolling news
and bored with the book in my lap
when a small child squealed.
 
"Birdie!" she called, jumping
on small pink sneakers.
She had short black bangs,
gold studs in her ears,
and eyes open for miracles.
"Birdie!" Her voice was shrill
but sweet as it pierced the haze
of travelers like me, too anxious
for the next city to notice
a pigeon perched on a plastic chair.
The bird hopped down to peck for crumbs,
its cheerful head bobbing with every step.
 
The child clapped and giggled.
I blinked a wet tear, wishing
I had been the one
to point and squeal first.
That I had spotted the iridescent
blue neck of the feathered wonder
strutting right before my eyes.


© by Jacqueline Jules.
Used here with the author's permission.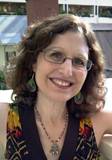 Jacqueline Jules is a former librarian who found herself intrigued by almost every book she put on the shelf. As a reader and as a writer, she doesn't restrict herself to one genre. She is the author of 50 books for young readers on a wide variety of topics, including a poetry book for young readers on the joy of activity called Tag Your Dreams: Poems of Play and Persistence (Albert Whitman, 2020). Jacqueline is also the author of four poetry books for adults, including a collection of biblically inspired poems, Manna in the Morning (Kelsay Books, 2021). After 26 years in Virginia, Jacqueline has moved to Long Island to be closer to her grandchildren. Learn more about her at www.jacquelinejules.com.



Anastasia:
A wonderful reminder that there is so much beauty to see, if we will just take a moment to notice. And I love pigeons!
Posted 11/26/2022 09:16 PM
Sharon Waller Knutson:
Loved this poem because it shows how children delight in sights that we find ordinary, boring and even irritating like pigeons and how the child's clapping and cheering "Birdie" prompted the speaker to spot "the iridescent blue neck of the feathered wonder strutting right before my eyes."
Posted 11/25/2022 11:59 AM
joecot:
The child's eye is open for miracles, then the poet's eye opens for the miracle of the child. Lovely.
Posted 11/25/2022 11:46 AM
RonPoems:
I love that the child needed not the book or electronics.
Posted 11/25/2022 11:09 AM
Lori Levy:
Beautifully captures the excitement of the child over something we could easily miss.
Posted 11/25/2022 10:49 AM
cork:
I love the focus.
Posted 11/25/2022 09:29 AM
Angela Hoffman:
Such a beautiful poem reminding us to pay attention.
Posted 11/25/2022 09:01 AM
Wilda Morris:
I'm right with you, there in the waiting room, missing to pigeon until a child with "eyes open for miracles" begins to squeal. Thank you for sharing!
Posted 11/25/2022 08:54 AM
Larry Schug:
Beautiful as a bruise, very honest last lines.
Posted 11/25/2022 07:41 AM