Alone in the night
On a dark hill
With pines around me
Spicy and still,

And a heaven full of stars
Over my head,
White and topaz
And misty red;

Myriads with beating
Hearts of fire
That aeons
Cannot vex or tire;

Up the dome of heaven
Like a great hill,
I watch them marching
Stately and still,
And I know that I
Am honored to be
Witness
Of so much majesty.


This poem is in the public domain.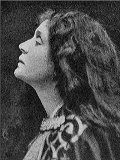 Sara Teasdale (1884 - 1933) was a Missouri-born poet afflicted with poor health from birth. She loved one man but married another, divorced, lost her best friend to suicide, and eventually committed suicide herself. Ironically, a majority of her poems are about love and beauty, and she won the first Pulitzer Prize for poetry in 1918. There are some similarities to be drawn between Sara and Emily Dickinson; both were reclusive, both wrote intensely personal poetry that frequently focused on nature, both knew unrequited love.
EmilyGrace91:
I memorized this poem in middle school, almost twenty years ago. Happy to have it refreshed in my memory today.
Posted 12/01/2022 01:08 AM
Kelly Scott:
Jayne, I agree with you about Sara Teasdale. Many, many moons ago, I found her poem "Let it be Forgotten" to me it is my favorite. It is easy poem to memorize and to remember it's lesson. I've used as part of my philosophy of life.
Posted 11/30/2022 05:45 PM
Wilda Morris:
Honored to witness such majesty! So true!
Posted 11/30/2022 11:46 AM
Darrell Arnold:
Wow! So much power from observing a quiet night sky. I'm afraid I will never know how to write like this. But I love it. Thank you, Jayne.
Posted 11/30/2022 08:23 AM
Larry Schug:
The final three lines cap this poem nicely.
Posted 11/30/2022 07:48 AM
MaryLeeHahn:
Sara Teasdale is a favorite and yet I had no idea she won the first Pulitzer Prize for poetry! Her poem "Barter" holds a special place in my heart, but I love this one almost as much.
Posted 11/30/2022 07:25 AM