Darn! The nickel-size hole on the heel
won't show inside my shoe, so I'm
donning the sock the penultimate time.
Why waste a "perfectly good" pair? I feel.

I remember when my frugal mother,
darning egg in hand, selects the grey
that matches the sock; she starts to lay
one woof thread beside another,

closely spaced, 'til weft is through.
Now warp: back and forth she goes,
repairing holes in family hose,—
ancient stockings good as new.

Every sock so healed a gift—
a testament to love and thrift.


This poem first appeared in the East End Beacon (Vol 6, #4, April 2022).
Used here with permission.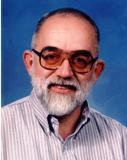 Bill Batcher is the author of four books. A retired teacher, with a Doctorate in Education from Teachers College at Columbia University in New York, his poetry has been published in magazines, anthologies, and online collections, and has won several awards. Bill and his wife, Carol, live in Greenport, New York.
Anastasia:
Well done! I darn my socks when I have time (there's a rather large pile in the basket, waiting their turn)like all needlework, I find it good for turning off the worry machine in my head, and then I also have something nice and new, or something nicely repaired.
Posted 12/04/2022 11:13 PM
Lori Levy:
I love that you appreciate your mother's repair of your socks.
Posted 12/04/2022 01:30 PM
cork:
We have my grandmother's darning egg which must be over a hundred years old.
Posted 12/04/2022 12:31 PM
CamilleBalla:
I remember my mom darning socks. Today that would seem like an art. So nice that you can appreciate this in your affirming and very well-crafted poem The last 2 lines are testament. Yes.
Posted 12/04/2022 09:15 AM
KevinArnold:
An A B B A rhyme scheme, like the singers, ending with a killer rhyming couplet, as a well-behaved sonnet should.
Posted 12/04/2022 08:58 AM
Larry Schug:
The gift of warm, dry feet! What could possibly speak more of love?
Posted 12/04/2022 08:25 AM
Darrell Arnold:
I like the story, and I like the rhyming scheme. This one is a lot of fun.
Posted 12/04/2022 08:22 AM
PmReid:
Nostalgic and a visual experience. I saw my Gran's wooden egg while reading this.
Posted 12/04/2022 07:44 AM
mail@schoolbusmart.com:
Darn! What a nice enclosed sonnet! As wonderfully enclosed as that newly healed sock! Randy Mazie
Posted 12/04/2022 06:47 AM