ďPleased to meet you --
Meat to please you,Ē
So the butcherís shop displayed.
The well-bred baker bakes his bread.
The hotel maid the bed has made.

I know not how to tie a knot.
I might, though, tell the tale
Of how a hare lost all its hair
And why cats chase their tail.

Oranges I gently peel.
The cook weighs out the flour.
The bells an hourly peal do chime.
The bees seek out a flower.

Iíd never steal a piece of steel,
Be led to thieve some lead.
Iíd take a break, apply the brake,
Live an honest life instead.

Itís quite a feat to wash oneís feet.
Who knows whatís up oneís nose?
A wounded heel takes long to heal.
He tows whilst on his toes.

The gartered knight rides out at night,
His horse a little hoarse.
His sight is on a distant site;
His course is rather coarse.

Iíll walk along the aisle to shop,
Allowed to read aloud.
As I pass by Iíll choose and buy,
Avoiding all the crowd.


© by Nick Balmforth.
Used with the authorís permission.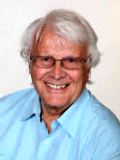 Nick Balmforth is a retired safety inspector of children's indoor play centres. His primary published work has been in the field of safety standardization for the British and European indoor play industry and he was awarded an MBE (Member of the Most Excellent Order of the British Empire) for his work in 2012. Nick is also a successful voice-over artist and, in addition to poetry, enjoys jazz. He lives in Staffordshire, England.
mail@schoolbusmart.com:
Bavo. What a fun, witty and clever piece. I thoroughly enjoyed it!
Posted 12/05/2022 05:55 PM
paradea:
Cute!!!
Posted 12/05/2022 10:53 AM
Lori Levy:
Great!
Posted 12/05/2022 10:35 AM
Sharon Waller Knutson:
Brilliant brain teaser and poetics. I loved it.
Posted 12/05/2022 10:05 AM
cork:
A woven reed!
Posted 12/05/2022 09:15 AM
Michael:
This is "near-genius" Nick. Great wordplays. Thank you!
Posted 12/05/2022 08:46 AM
Darrell Arnold:
Brilliantly done, Sir. I love it. I appreciate the mind-bending effort it took to compose this terrific piece.
Posted 12/05/2022 08:34 AM
ladyleo191:
Loved the smiles this morning!
Posted 12/05/2022 06:06 AM
Simontw7:
I wonder did he write that bare foot and yet could not bear the cold?
Posted 12/05/2022 05:25 AM