click, click
clink, clink
tinkle and roar
†
Lake Michigan is playing
its tympani this morning,
chipping up ice flows.
†
Wave foam shoos
sound shapes to shore.


© by Marilyn Zelke Windau.
Used with the authorís permission.
†
†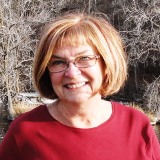 Marilyn Zelke Windau, of Sheboygan Falls, Wisconsin, started writing poems at age thirteen. A former art teacher, she has published four books and her award-winning work can be found in many journals and anthologies. Marilyn includes her maiden name to honor her father, who was also a writer. When she's not writing, Marilyn works at restoring her 1891 house, creates mosaics, paintings, and books made with tea papers. A Master Gardener volunteer and an art center docent, she is married to a retired environmental engineer, has three daughters, and three grandchildren.
Jancan:
Creative piece with lively words
Posted 12/06/2022 09:47 PM
TheSilverOne:
Time for a drive to the Lake! Lovely poem, Marilyn. ~ Doris Bezio
Posted 12/06/2022 01:14 PM
paradea:
Great alliteration!
Posted 12/06/2022 12:23 PM
CamilleBalla:
I have not been near Lake Michigan in the winter but I can imagine the sight and the sounds in this poem. Very well written!
Posted 12/06/2022 12:21 PM
Lori Levy:
The second stanza could stand aloneI can see it clearly. Beautiful.
Posted 12/06/2022 11:40 AM
cork:
A timpani symphony!
Posted 12/06/2022 09:23 AM
Wilda Morris:
Wonderful sound poem!
Posted 12/06/2022 08:43 AM
Darrell Arnold:
I have personally witnessed the amazing chrystal-like chiming of ice shards as they rise and fall with the waves along the shore of a lake. It's a magical natural world out there. I hold great sorrow for those who never get to experience it. Thank you, Marilyn.
Posted 12/06/2022 08:22 AM
peggy.turnbull:
Good morning,Lake Michigan! Thanks for giving us its sounds while we stay warm inside.
Posted 12/06/2022 07:51 AM
paula:
Fun! And good to hear your voice.
Posted 12/06/2022 05:51 AM