Late afternoon during a December storm,
the lights go out. I picture a cold night
and feel anew for tornado victims,
for refugees, for the unhoused, for ancestors
who survived even under starless skies.

Still, I find this evening of roughing it
romantic—candles lit, flashlights nearby.

My husband lights the stove with a match,
poaches the salmon, sets the table, opens
wine, and together, we dine. In the dark,
young again, we plan to go to bed and warm
each other—but then the lights go on.

My husband turns on Monday night
football, and I clean the kitchen.


© by Jeanie Greensfelder.
Used with the author's permission.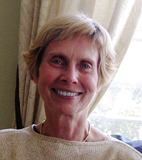 Jeanie Greensfelder is the author of three poetry collections and her work has been featured on Writers' Almanac and American Life in Poetry. A psychologist, Jeanie seeks to understand herself and others on this shared journey filled, as Joseph Campbell said, with sorrowful joys and joyful sorrows. Jeanie lives with her husband Andy in San Luis Obispo, California, where she volunteers as a bereavement counselor and where she served as the 2017-18 Poet Laureate for that county. Learn more about her at http://jeaniegreensfelder.alhteam.com/.
paradea:
Good one!!!
Posted 12/12/2022 07:50 PM
Carol Clearwater:
Delightful poem, rueful recognition of a common experience. Loved the last couplet, great use of the sonnet form.
Posted 12/12/2022 06:12 PM
Lori Levy:
Beautifully expressed, and I like the humor.
Posted 12/12/2022 12:17 PM
CamilleBalla:
Enjoyed this poem which makes cozy the storm and the power outage. How we sometimes take light and warmth for granted. Like the humor.
Posted 12/12/2022 11:37 AM
KevinArnold:
The intimate details bring us into your life.
Posted 12/12/2022 10:37 AM
RonPoems:
Great burst-the-bubble poem.
Posted 12/12/2022 10:28 AM
Michael:
Great ending!! Clever poem and so true of life.
Posted 12/12/2022 10:00 AM
Wilda Morris:
Love the humor of this, as well as the seriousness of thinking of those who never have the heat they need.
Posted 12/12/2022 09:47 AM
cork:
So much for anticipatory set!
Posted 12/12/2022 09:05 AM
Darrell Arnold:
This made me laugh. And it is so appropriate, coming on a Monday during football season.
Posted 12/12/2022 08:40 AM
Larry Schug:
The ending is a knock on the head! Wow. I have a question. Do the lights in some parts of the country "go on", while where I live, the lights "come on"? Gotta love American English
Posted 12/12/2022 08:10 AM
mail@schoolbusmart.com:
Im with Rob. Great poem. But I think that when the lights came on, it called for another glass of wine and an insistence on still warming each other in bed! Randy Mazie
Posted 12/12/2022 07:08 AM
Rob:
Ha ha! Great ending! Love the build-up to it, too!
Posted 12/12/2022 06:22 AM