A
star
shining
and leading
three wise men
Balthazar, Gaspar, and
Melchior bearing gifts of gold,
frankincense and myrrh to present
to the newborn king they are seeking
whom they will find in Bethlehem in a stable
newly born with his mother and father giving care
and shepherds from the hillsides where they herd their sheep
with the soft songs of angels celebrating this wonderful occasion
we celebrate today with lights and bulbs and tinsel and strings of popcorn and
other
treasured
decorations
on the tree


© by C.F. Kelly.
Used with the author's permission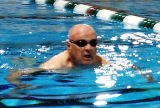 Cornelius Farrell Kelly lives in Pinedale, Wyoming, with his wife of 60+ years, in a house they built with the help of their ten children at an altitude of 7300 feet above sea level. The author of eight chapbooks and two published books, he writes a rhyming couplet every morning and posts it on his Facebook page. Cork is a competitive senior swimmer (he says he frequently gets ideas for a poem while swimming) and last October, he participated in the Huntsman World Senior Games.
Jancan:
Magnificent!
Posted 12/12/2022 10:08 AM
Wilda Morris:
Cleverly constructed! The colors add to the effectiveness.
Posted 12/12/2022 09:48 AM
carlpalmer:
Perfect Postcard Poem
Posted 12/11/2022 02:10 PM
paradea:
Love this!!
Posted 12/11/2022 01:43 PM
Lori Levy:
Great shape poem.
Posted 12/11/2022 01:05 PM
KevinArnold:
Great fun. There seems to be an ill-deserved prejudice against shaped poems. And metered poems. And . . . and. It all comes down to quality, which this tree poem, with its sturdy trunk, definitely has.
Posted 12/11/2022 11:37 AM
Darrell Arnold:
Nice job, Cork. It's not too often someone can associate a Christmas tree and the birth of Christ in such a sensitive, sensible, and creative way. Merry Christmas to you.
Posted 12/11/2022 08:29 AM