In that dark kitchen, cooling
in the December night, we stirred
water into flour, making paste
to hold my school project…
construction paper states,
green Tennessee, Rhode Island red,
brown Iowa and California
orange, tight to the U.S. map.
We only heated the kitchen
when needed. No wasting wood
for warmth—that's what sweaters
were for. Mornings, when the coffee
pot warbled, biscuits browned
and oatmeal sputtered,
frost drew pictures
on the window as if the world
outside was white. Steam
smoked a different landscape,
one I painted with my breath,
traced stick figures, wrote my name.

In the sitting room,
the belly of the stove was fat
with blue coals, bright
Jack-o-lantern smile.

Outside
the cold moon cast down
a backward eye, sailed off
somewhere warmer. After
it had silhouetted
the barn, road and hill,
fence and stables
in silver and black.

After pasting
we rubbed
waxed paper across
the Sunday funnies
to make our own, stacked
Lincoln Logs a foot high, played Rook,
Old Maid, Go Fish. The world|
was at war Edward R. Murrow said,
but I felt warm with wood
cut from trees I knew,
ham from hogs we grew, and eggs
our chickens laid round in nests
while rain on the tin roof
didn't scare
us at all.

From Tea and Other Assorted Poems (Main Street Rag, 2010).
Used here with permission.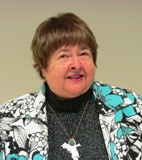 Ruth Moose was on the Creative Writing faculty at the University of North Carolina-Chapel Hill for 15 years. Author of novels, short story collections, and poetry collections, her work has appeared in publications all over the world. Ruth, who lives in Albemarle, North Carolina, was awarded a MacDowell Fellowship and, in 2009, received the prestigious Chapman Fellowship for Teaching. Her debut novel, Doing it at the Dixie Dew, was awarded a $10,000 Malice Domestic Prize. Ruth's most recent novel is The Goings on at Glen Arbor (St. Andrews University Press). Read a wonderful interview with her here.

Wilda Morris:
Well-done. And a great title!
Posted 12/17/2022 09:12 AM
JudithViirgina:
Thank you Ms.Ruth Moose for the memories!
Posted 12/14/2022 08:40 PM
JudithViirgina:
,She disappeared into her small kitchen. Escaping into her own world of private thoughts. You can smell the logs burning in the potbelly stove where an old cast iron had bacon sizzling, the eggs soon to be drowning in the bacon fat! Tomato gravy was her speciality! We all knew that she kept her sanity that way! Judith Gullett
Posted 12/14/2022 08:36 PM
Lori Levy:
Beautiful. I can see it all clearly.
Posted 12/14/2022 12:56 PM
RonPoems:
What an honest poem. We are all, at times. Islationists.
Posted 12/14/2022 12:27 PM
paradea:
Ruth's interview is worth reading, too!!
Posted 12/14/2022 10:36 AM
Michael:
So like my own childhood, Ruth. You must have been there!! Nicely done.
Posted 12/14/2022 09:27 AM
cork:
I have heard oatmeal sputter!
Posted 12/14/2022 09:19 AM