orange evening clouds
behind green-brown limbs:
watercolor
†††† †
fades to ashen eaves
before a dusk-gray sky:
charcoal sketch
†††††††† †
cedes to formless night:
all is clearly drawn
with disappearing ink †


© by Rob Baker.
Used with the authorís permission.
†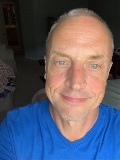 †
Rob Baker is an English teacher at Barrington High School in Barrington, Illinois. He enjoys reading, writing, making/solving crossword puzzles, and learning how to better craft fiction, non-fiction, and poetry. He is constantly and gratefully inspired by his students, his fellow teachers, and his writing group, the Second-Saturday Poetry Workshop in Palatine, Illinois, to which he has belonged for 10+ years.
†
†
Wilda Morris:
A wonderful haiku sequence.
Posted 12/17/2022 09:09 AM
JudithViirgina:
If you have ever watched a fall sunset, Rob Baker was there with you! Judith
Posted 12/15/2022 07:41 PM
Rob:
Thanks for the kind and thoughtful comments, one and all!
Posted 12/15/2022 04:39 PM
Lori Levy:
Like the combination of orange and charcoal.
Posted 12/15/2022 04:35 PM
carlpalmer:
capturing the sequence of so many sunsets
Posted 12/15/2022 01:35 PM
tiddles:
Such a visual poem. Love the colors. MZWindau
Posted 12/15/2022 09:03 AM
Larry Schug:
These words took me some place else for a couple minutes. Good work. I especially like the opening stanza.
Posted 12/15/2022 07:30 AM
Joan Luther:
My soul envisions the image of blue hour in your words. Lovely poem
Posted 12/15/2022 07:03 AM