I sit outside
two days from solstice,
breathe in, out, see puffs of breath,
remember being a kid.
We built snow castles,
never felt cold hands or feet,
just the pure joy of fresh air.

In the giant hemlock that guards our yard
chickadees fluff feathers, prepare for sleep.
I wish I could keep my door open, invite them in,
cast birdseed on the rug.

At night I envision fairy tale forests
where birds alight on a young womanís hand,
tell stories of life in the sky,
how snow is born,
where dreams go.


© by Jan Chronister.
Used with the authorís permission.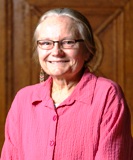 Jan Chronister is a retired English and Creative Writing teacher who now spends her time on her own writing. She also helps fellow poet friends publish their work. Jan spends all the time she can in her flower gardens, which often find their way into her poems. She has published two full-length poetry collections and six chapbooks and is working on a few more; her newest is Flight Patterns. Winner of the Wisconsin Library Association's 2020 Outstanding Poetry Book award for Distanced: Poems from the Pandemic, Jan lives in rural Maple, Wisconsin with her husband Bob.
Anastasia:
A lovely poem, Jan! I,too, love birdsthey are so magical! I always appreciate a poem in which they appear!
Posted 12/20/2022 10:37 PM
TheSilverOne:
Beautiful poem, evoking many memories. ~ Doris Bezio
Posted 12/20/2022 08:02 PM
Adriana:
Jan, this is too beautiful - made me cry. Such lovely fanciful ideas, to have them in your house with you, to have them telling stories. Poetry transcendant... (This is high praise since I am afraid of all birds...)
Posted 12/19/2022 05:53 PM
Lori Levy:
Love the idea of birds telling "stories of life in the sky,/how snow is born,/where dreams go."
Posted 12/19/2022 03:33 PM
tiddles:
Just beautiful, Jan. i loved the idea of scattering bird seed indoors for the chickadee-dee-dees. Think I may dream tonight of where snow is born... MZWindau
Posted 12/19/2022 11:27 AM
Wilda Morris:
How lovely! The life of the imagination can be wonderful! And the exuberance of the child.
Posted 12/19/2022 10:40 AM
paradea:
Beautiful!
Posted 12/19/2022 09:35 AM
KevinArnold:
Wisconsin poets. Yes.
Posted 12/19/2022 09:04 AM
peggy.turnbull:
Winter's magic is in this poem.
Posted 12/19/2022 08:58 AM
Angela Hoffman:
I love the chickadees in my yard. They are such bundles of joy just like this poem.
Posted 12/19/2022 08:15 AM
bobbi43sml@aol.com:
This is pure joy and I can actually feel the cold air and remember the puffs making lovely clouds .
Posted 12/19/2022 05:25 AM
PmReid:
Just a lovely reminder of youth.
Posted 12/19/2022 05:12 AM