Glistening specks float down from the clouds
In a gossamer dream
Tenderly caressing the earth
Like a motherís love
Landing like a kiss
Beckoning me to sink onto their pillowy softness
With a sigh
And eyes that flutter shut
Where I can make angels
Who might carry me
Back to the stars -
Or sleep.


© by Nancy Machlis Rechtman.
Used with the authorís permission.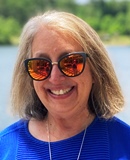 Nancy Machlis Rechtman is a poet, freelance writer, and former newspaper copy editor. Her work has been published in a variety of journals. Nancy has lived on both coasts, but currently makes her home in South Carolina, where she enjoys reading, gardening, cooking, creating art, and playing the guitar. Learn more about her at†https://nancywriteon.wordpress.com.
†
†
†
Jancan:
So descriptive and lovely--great similes!
Posted 12/19/2022 08:38 AM
Wilda Morris:
Wonderful language! Brings back many memories of making snow angels.
Posted 12/18/2022 12:37 PM
Lori Levy:
Soft and beautiful.
Posted 12/18/2022 11:59 AM
cork:
Sleep is an interesting word.
Posted 12/18/2022 11:44 AM
Sharon Waller Knutson:
Love this uplifting visual poem packed full of unique imagery: "gossamer dream Tenderly caressing the earth Like a mothers love Landing like a kiss."
Posted 12/18/2022 10:31 AM