Beside us in our seeking after pleasures,
         Through all our restless striving after fame,
    Through all our search for worldly gains and treasures,
         There walketh one whom no man likes to name.
    Silent he follows, veiled of form and feature,
         Indifferent if we sorrow or rejoice,
    Yet that day comes when every living creature
         Must look upon his face and hear his voice.

    When that day comes to you, and Death, unmasking,
         Shall bar your path, and say, "Behold the end,"
    What are the questions that he will be asking
         About your past? Have you considered, friend?
    I think he will not chide you for your sinning,
         Nor for your creeds or dogmas will he care;
    He will but ask, "From your life's first beginning
         How many burdens have you helped to bear?"


    This poem is in the public domain.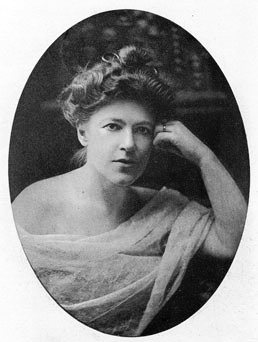 Ella Wheeler Wilcox (1850-1919) was a popular and prolific poet. Published and lauded before she even graduated from high school, Ella preferred to write happy, upbeat poetry and was much beloved for it. More than a dozen of her poems are included in the book, Best Loved Poems of the American People (Doubleday, 2008). The familiar saying, "Laugh and the world laughs with you, weep, and you weep alone. . ." comes from her best-known poem, "Solitude." A morally strong and spiritual person, Ella believed that her purpose on earth was to practice kindness and service. Read more about her here.
paradea:
Love this!!
Posted 12/29/2022 10:34 AM
Wilda Morris:
A great message, expressed well.
Posted 12/29/2022 08:47 AM
Carebear10:
Thank you for sharing this beautiful poem. I am honored to be married to Ellas great-great-great grand nephew.
Posted 12/28/2022 08:05 PM
CamilleBalla:
After reading more about Ella through the link you offered, Im going to check out some of her poems. She seems to be ahead of her time in her interest in spirituality as we are learning today. Thanks for introducing her once more to us, Jayne. I remember her from a quote that my Dad often repeated which I learned here was from Ella Wheeler Wilcox.
Posted 12/28/2022 12:19 PM
Jancan:
No wonder she was so lauded. I embrace every line of this wonderful poem~~great choice for the day!
Posted 12/28/2022 10:07 AM
Michael:
I enjoyed both the poem and backstory on Ms. Wheeler's life. Resourceful, deep and talented in life and in poetry. Great example.
Posted 12/28/2022 09:46 AM
Angela Hoffman:
A beautiful reminder.
Posted 12/28/2022 08:41 AM
Darrell Arnold:
In my case, Ella is preaching to the choir. I try to stay, every day, upbeat and positive. I strive to be kind, helpful, and generous, sometimes to my own detriment. But the world can be a tough place for many, so kindness is key. You never know what burdens the people you are dealing with are bearing. I've messed up some, along the way, but I strive to never mess up again. I appreciate her poetic and solemn reminder.
Posted 12/28/2022 08:24 AM