Translated by Yingcai Xu
A wingless leaf
Can fly high
Because of the wind it resorts to
 
A landed bird
Can take off again
Because of the two wings it possesses
 
Leaves are born earthbound
Yet, birds, celestial


From February's Rose (Finishing Line Press, 2022).
Used here with permission.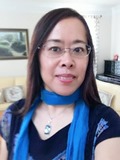 Bing Hua, born Lu Lihua, is a Chinese-American poet. She is an accountant in Maryland, vice president of the Chinese Poetry Association, and content director of Poetry Hall.  Bing has been called "the queen of love poetry" and "a rose in the poetic world." She is the author of three collections and her work is widely anthologized.
Yingcai Xu is a teacher, poet, translator, president of the Chinese Poetry Association, and Editor-in-Chief of Poetry Hall. He has taught classical and modern Chinese languages, classical and modern Chinese literature, Chinese cinema, Chinese calligraphy (theory and practice), and translation. Yingcai established the Chinese program at DePaul University.
Bing Hua:
Thanks Sharon Waller Knutson, Michael, cork, Wilda Morris, Jancan, CamilleBalla, Lori Levy for your kind words and encouragement. Have a wonderful Year of the 2023!!!
Posted 01/08/2023 01:14 PM
Lori Levy:
Like the contrast between the flying of the leaves and the flying of the birds.
Posted 01/05/2023 01:58 PM
CamilleBalla:
Deep thought that takes me to the light and airyand does so in a few words. Wow.
Posted 01/05/2023 01:34 PM
Jancan:
Concise, descriptive, and lovely
Posted 01/05/2023 11:12 AM
Wilda Morris:
A miniature poem, but wise and beautiful.
Posted 01/05/2023 09:28 AM
cork:
How many of us have wished we could fly?
Posted 01/05/2023 09:22 AM
Michael:
Remarkable poem, Bing . . . it draws me into the very air which sings it song about life.
Posted 01/05/2023 09:06 AM
Sharon Waller Knutson:
Love this sparse wise poem. Favorite lines: Leaves are born earthbound Yet, birds, celestial
Posted 01/05/2023 08:41 AM