I threw away my Betty Crocker cookbook last night.
So what, you ask?
Well, it was a recipe book I'd had since high school
in the late '50s. Nostalgia was written all over it.
Stained pages opened automatically to certain
cookie recipes—snickerdoodles, Russian teacakes,
Lebkuchen, and Ethel's sugar cookies.
But this season's cookie baking marathon was less
spirited. I decided on simply replicating a German
biscotti (mandelbrot, if you please) to present
to friends—no spritz, no cut-outs, no glazed spice cookies.
I took a hard look at the battered (minus the back cover),
stained, dog-eared book and realized it was past history.
The recipe file on my computer was growing, it was time
to say goodbye to Betty.
But before I threw the old book away, I did tear out
a few pages. Nobody has a better sugar cookie recipe
than Ethel.


© by Norma Wightman.
Used with the author's permission.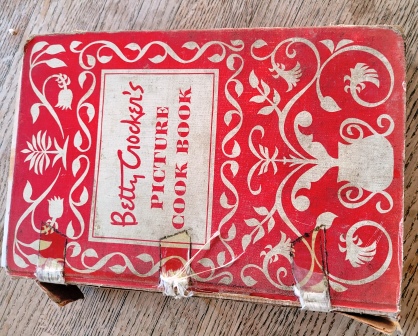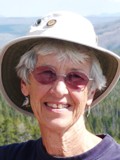 Norma Wightman lives in Morro Bay, California, where she walks the beach daily, leads nature hikes in local state parks, and enjoys yoga, kayaking, and birding around the beautiful central coast. Norma's poems have appeared in local publications and art exhibits and she has published chapbooks for family and friends. Her inspiration, she says, comes from everyday items and nature.
Jancan:
Light-hearted, descriptive poem that makes a realistic point
Posted 01/04/2023 10:03 PM
Lori Levy:
Like the humor in this poem.
Posted 01/04/2023 04:05 PM
Tamela:
Oooooh - I wish she had sent it to me ! -ir at least donated it to Goodwill or Thrift Books or someplace it would find a loving home - even without her favorite recipe ot two. PS - I am now sorting through 3 (and a half) households. I'm at the age where deaths of the current generation & the generation above are approaching equal each year. With fewer in the younger generation & & the younger generation becoming more & more minimalist, I fear many things will find their living homes outside the family.
Posted 01/04/2023 02:29 PM
CynthiaB:
This is delightful, Norma, and I love the turn at the end!
Posted 01/04/2023 02:27 PM
CamilleBalla:
This poem is stirring thoughts about my letting go of cookbook friends who sit there taking up space, being nice and nostalgic while I too want to make biscotti next time I bake. Thanks for the poem and the nudge!
Posted 01/04/2023 12:52 PM
paradea:
I know the feeling!!! Nice poem!!
Posted 01/04/2023 10:30 AM
cork:
Our Betty Crocker Cook Book has been recovered, and is my "go to" when in need.
Posted 01/04/2023 09:38 AM
Michael:
Everyday things . . . Ah yes! Always the best sources for poetry. Nicely done, Norma!!
Posted 01/04/2023 09:09 AM
Wilda Morris:
I still have recipe books given to me when I got married nearly 60 years ago. I identify with the "stained pages." And I really like the way the poem ends. I'll have to get out my old Betty Crocker Cook Book and look for Ethel's Sugar Cookies.
Posted 01/04/2023 08:24 AM
Angela Hoffman:
I still have mine-there is so much nostalgia in your poem-and in the book!
Posted 01/04/2023 08:24 AM