"Hasnít this been just the bestest day?"
††††††††††††††††††††††††††††††† --John, age 3

Itís a special time
for just the two of us, Lord.
Private victories
the world need never know.
Together,
we bask in our self-satisfaction,
in the smug rapture
spawned from fruition
of a significant event.
Thus, here we areó
with burgers and fries,
playground sand in our shoes,
a stack of library books,
three favorite videos,
two bags of M&Ms,
and a list of other sybaritic delights
in which we plan to indulge ourselves.
Today we are enjoying life to its fullest,
honoring its richness,
commemorating several of its finest hours.
Itís a mother-child moment
to remember forever
in our cherished mental scrapbook of life.

From A New Mother's Thoughts (Pocket Books, 1989).
Used with permission.
†
†
†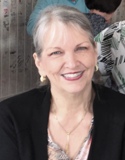 Jayne Jaudon Ferrer is the author of five books of poetry, a nonfiction book about games, and a novel, Hayley and the Hot Flashes. Jayne created www.YourDailyPoem.com in 2009 to share the pleasure and diversity of poetry. A former copywriter, magazine editor, newspaper columnist, and freelance journalist, her work has appeared in hundreds of publications. When not writing or reading, Jayne enjoys music, old movies, gardening, hiking, and good conversation. A native Floridian, she has lived in Greenville, South Carolina, for the past 28 years. Learn more about her at www.jaynejaudonferrer.com.
barbara eknoian:
JOYFUL - A Wonderful memory.
Posted 01/08/2023 03:46 PM
Darrell Arnold:
I guess it's odd, but your beautiful poem put me in mind of special days with my father, grandfather, and or grandmother, instead of with my kids. Such beautiful memories come flooding back from my childhood of those special times.
Posted 01/07/2023 07:52 PM
Lori Levy:
So much joy in this poem! Thank you for sharing, and Happy Birthday to John!
Posted 01/07/2023 02:45 PM
CamilleBalla:
A beautiful prayer poem of celebrating milestone moments shared with your 3-year-old son then and sharing with us now on his 39th birthday. Wonderful way to share and celebrate Comrades on Johns birthday. Happy birthday, John!
Posted 01/07/2023 12:59 PM
paradea:
Good mother...good son!! Wonderful poem, Jayne, and Happy Birthday to your comrade!
Posted 01/07/2023 12:31 PM
pwax:
Burgers and fries, sand, and, of course, books. What could be better? Happy Birthday, John, and thank you, Jayne.
Posted 01/07/2023 12:05 PM
KevinArnold:
Absolutely wonderful. My fave!
Posted 01/07/2023 12:04 PM
RonPoems:
What a wonderful celebratory poem. Videos puts us in the period and as a bonus, I now know sybaritc.
Posted 01/07/2023 10:54 AM
Cathyís Sister:
Great poem of a mother-child moment! Happy Birthday John!
Posted 01/07/2023 10:42 AM
Michael:
Many happy returns and how wonderful to capture life in the picture of a poem. So well done, Jayne.
Posted 01/07/2023 09:16 AM
Angela Hoffman:
Such a lovely poem. Thank you both for all you do!
Posted 01/07/2023 09:06 AM
Nabby Dog:
This is a gorgeous poem to celebrate a milestone moment! Happy Birthday, John, and thank you to your mother for providing such a literary gift.
Posted 01/07/2023 09:04 AM
Wilda Morris:
Happy birthday, John! "Our cherished mental scrapbook of life: - what a wonderful expression!
Posted 01/07/2023 08:47 AM
Glen Sorestad:
Thanks, Jayne, for sharing this lovely poem with us. And thanks to John, on his birthday, for all he has done to help his mother and to bring YDP to us all.
Posted 01/07/2023 07:44 AM
Joan Luther:
Happy birthday John! Loved the line: cherished mental scrapbook of life.
Posted 01/07/2023 07:27 AM
Pat Brisson:
I love that last line. Thanks, Jayne, for these lovely images of life with a toddler.
Posted 01/07/2023 07:25 AM