Rolling up the garden hose
for the night
ends the tending of my newly
planted winter garden.
The sun sliding behind
giant oaks to the west
tinges the treetops
with the day's last light.
Overhead a flock of geese
fly northeast toward
the San Gabriels.
Occasionally a dog barks
from the humane society
nearby; a hidden lone
red-tailed hawk
screeches from a palm.
Cottontails, squirrels, and raccoons
emerge from the Nature Center
to look for tender leaves and seedlings.
And always the steady hum
of the 605 Freeway.


© by Erle Kelly.
Used with the authorís permission.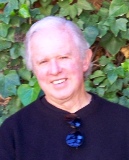 Erle Kelly, whose poetry has been published in a variety of print and online venues, lives in Long Beach, California and attended California State University there. Retired from a career in marketing management, Erle does cycling, has done tutoring at a local elementary school, and attends a weekly poetry workshop. He and his wife, Kristine, enjoy tending their community vegetable garden and traveling.
†
†
†
Tamaraeve:
You really take us there, Erle. Wonderful poem!
Posted 01/08/2023 11:57 PM
Wilda Morris:
You brought me into that garden, hearing the sounds, seeing the geese and the oak and the sun.
Posted 01/08/2023 07:29 PM
Michael:
This reminds me of the responsibility we poets have of making ordinary things extraordinary. Well done, Erle. This poem is especially good with "sounds."
Posted 01/08/2023 04:15 PM
barbara eknoian:
I feel as though I'm right there seeing, feeling, and even hearing the dog bark from the humane society. Beautiful setting and poem.
Posted 01/08/2023 03:20 PM
Lori Levy:
Feels peaceful.
Posted 01/08/2023 02:13 PM
BAMars:
I agree with everyone and especially with what Sharon wrote. I feel like I am there. Such nice work, Erle.
Posted 01/08/2023 02:09 PM
Sharon Waller Knutson:
I love that this poem stimulates the senses. The devil is in the details. I can see the sun sliding behind giant oaks and the flock of geese. I can hear the dogs barking from the humane society and the hawk screeching, see the cottontails, squirrels and raccoons and hear the hum from the freeway.
Posted 01/08/2023 11:10 AM
peninsulapoet:
I love it, Erle.
Posted 01/08/2023 10:48 AM
RonPoems:
I like how the geese flying toward the San Gabriels and reference to the 605, place the garden in LA.
Posted 01/08/2023 10:03 AM
KevinArnold:
Yes, the quiet.
Posted 01/08/2023 09:31 AM
Larry Schug:
A nicely illuminated moment of paying attention to Now, the only time we have.
Posted 01/08/2023 07:43 AM