After a good night's sleep,
your mind awakes alert,
but when you get up, your legs
lag behind, still muscle-tired.
So you shuffle into the kitchen

and discover the patio
is quietly full of life.
A chubby mourning dove
leads your eyes to watch
its waddling search for seeds

left over from yesterday's sprinkling.
Nearby is the dove's loyal mate.
A stout blue jay commands
the row of bricks beneath it.
A chipmunk, minding its own business,

nibbles in a far corner.
A moment later, the doves
pause, lift their fat necks
toward where you stand; and say,
"Come join us."


© by Robert K. Johnson.
Used with the author's permission.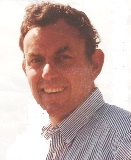 Robert K. Johnson writes poems about our everyday world, which, he says, "has always gripped me much more than science-fiction worlds." A former English professor at Suffolk University in Boston, he was the poetry editor for Ibbetson Street magazine for several years. Robert is the author of four collections; he lives in a suburb near Boston.


Lori Levy:
Love how the patio is so full of life.
Posted 01/10/2023 11:24 AM
Sharon Waller Knutson:
i love this delightful uplifting poems about a party on the patio with wildlife. I also love how the poet powered the poem with active verbs: awakes, lags, shuffle, etc. Favorite line: A moment later, the doves pause, lift their fat necks toward where you stand; and say, "Come join us."
Posted 01/10/2023 10:29 AM
Wilda Morris:
An inviting poem!
Posted 01/10/2023 09:00 AM
Joan Luther:
What a lovely invitation into the morning!
Posted 01/10/2023 06:15 AM