Male and female Northern Cardinals,
puffed up to ward off the winter cold,
sit on the berry bush, their colorful
feathers glistening in the morning sun
that peeks over the glimmering horizon.

I sit at my sunroom window, sipping
my Earl Grey tea, hands clasping
the cup to ward off the morning chill,
as first the male, then the female
tweet songs of welcome, a ritual
they undertake most days when winter
deposits its burden on bare branches
and I sit with my bird friends
for an early morning visit.


© by Peter A. Witt.
Used with the authorís permission.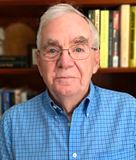 Peter A. Witt is a Texas poet and a retired university professor. An active birder and photographer, he started writing poetry as a way to survive pandemic isolation. Peter has published two volumes of poetry and his work has appeared in a variety of venues.
Anastasia:
One of the things I miss about living in Missouri is seeing the cardinals. Thank you for capturing this moment!
Posted 01/14/2023 10:22 PM
pwitt46@gmail.com:
Thank you all for the wonderful feedback
Posted 01/14/2023 07:11 PM
Wilda Morris:
Cardinals are among my favorite birds. I can see them on your bushes.
Posted 01/14/2023 06:08 PM
Lori Levy:
I can see the scene clearly.
Posted 01/14/2023 02:29 PM
CamilleBalla:
A cheery, warming picture with your early morning visitors. Nice.
Posted 01/14/2023 12:24 PM
RonPoems:
We dont have cardinals in Southern California, so thanks for sharing yours. They are a treat when we travel.
Posted 01/14/2023 10:48 AM
Susi Eastin :
A cheery, warming picture on this chilly winter morning. We love our Cardinals here in Oklahoma,too! Thank you Peter! ~ Susi
Posted 01/14/2023 08:33 AM
Larry Schug:
The sighting of cardinals in a snowy landscape, truly a gift from Mother Nature. This poem, also a gift. Thank you, Peter
Posted 01/14/2023 07:35 AM