An excerpt


Do not wait until some deed of greatness you may do.
Do not wait to shed your light afar.
To the many duties ever near you now be true.
Brighten the corner where you are.

Someone far from harbor you may guide across the bar.
Just above are clouded skies that you may help to clear.
Let not narrow self your way debar.
Though into one heart alone may fall your song of cheer.
Brighten the corner where you are.

Here for all your talent you may surely find a need.
Here reflect the bright and Morning Star.
Even from your humble hand the Bread of Life may feed.
Brighten the corner where you are.


This poem is in the public domain.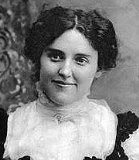 Ina Mae Duley Ogdon (1872 – 1964) was born in Rossville, Illinois. A teacher by profession, she was also a prolific writer of hymns, poems, stories, and magazine articles. Ina was also a gifted speaker and was invited to join the Chautauqua Circuit, but had to pass on that opportunity when her father was seriously injured in a car accident.
Wilda Morris:
I remember singing these words in Bible School or Sunday School (probably both). The message got through to me. I do try to brighten the corner where I am. I do find that when I try to brighten the corner for someone else, it brightens the corner for me, too.
Posted 01/16/2023 05:11 PM
DavidTookey:
Simple and profound. Always a great combination.
Posted 01/15/2023 07:13 PM
CamilleBalla:
Nice message in this rhyme. We can do this. We can greet the cashier, the bagger; wish them a nice day
Posted 01/15/2023 10:11 AM
Michael:
Love poem . . . another poet I would not have known but for YDP!
Posted 01/15/2023 09:23 AM
Darrell Arnold:
I love her poem because I love her message. I have a part-time job as a marketplace cashier. I take great pleasure in making my customers smile, very often by reciting a verse of rhyme gleaned from this very website. Most of the customers enjoy them, and many come back to see what else I can recite. Great fun.
Posted 01/15/2023 08:23 AM